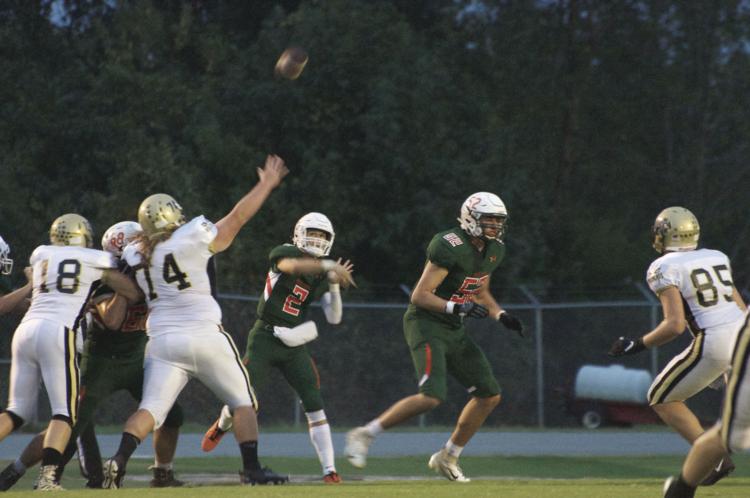 After dominating the county for most of the millenium, the East Lincoln Mustangs and Lincolnton Wolves have been down in recent years relative to the high expectations of each program. At 5-0 through September, the Mustangs appear to have a team that will contend for the South Fork 2A crown, and while Lincolnton may still be a year or two away under new head coach Joe Glass, the Wolves would love nothing more than to be the first blemish on East Lincoln's record.
The Mustangs feature a balanced offensive attack led by senior quarterback Justin Barnett, a dual-threat quarterback who's accounted for 11 touchdowns through the air and 5 more on the ground. Barnett's favorite weapons are Cole Barber out of the backfield and Mikivi Phinx out wide, while junior Lucas McConnell does a little bit of both.
East Lincoln will have its hands full tonight with a stout Lincolnton defense. While the Wolves allowed 34 points at Newton-Conover a week ago, two of those scoring drives covered less than 50 yards combined after a Lincolnton fumble and mishit punt, and a third touchdown was scored on special teams while the defense was on the sideline.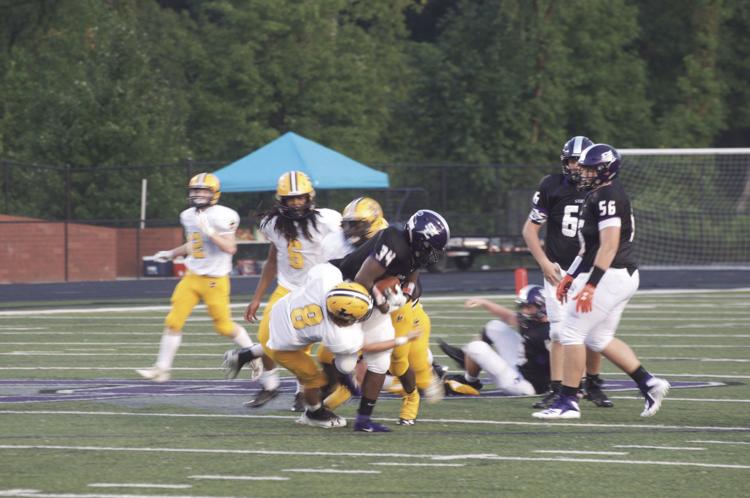 The mismatch in this one, at least on paper, will be the Mustangs defense against the Lincolnton offense. East Lincoln surrenders fewer than 10 points per game, while the Wolves have only eclipsed 14 points once this season.
Seniors Ethan Martin and Blaine Dellinger lead a nasty front seven that will look to stifle the Lincolnton rushing attack. If successful, the Wolves will have to rely on freshman quarterback Reed King, who will have to take care of the ball to give his defense a chance to keep the game close.
The Mustangs have won the past two matchups between these teams, including a 27-6 contest last year. Neither team ran the ball particularly well in that contest, but East Lincoln tallied three touchdowns in the passing game while Lincolnton was intercepted twice.
Maiden at West Lincoln
Last year marked West Lincoln's first victory over the Maiden Blue Devils since 1985, and the Rebels will need to establish a winning streak of their own to avoid an 0-2 start to conference play.
West Lincoln jumped out to a 14-3 lead over the North Lincoln Knights a week ago, and appeared primed to take a 21-10 lead into halftime before a fumble on the goal line flipped the game on its head. The Rebels were stifled in the second half, and the Knights scored 21 unanswered points to leave Vale with a victory.
Maiden, on the other hand, jumped all over their county rivals from Bandys last week, and while the Blue Devils were held scoreless in the second half just like West Lincoln, they were able to hold on for a 30-23 victory over the defending conference champions.
These teams, and particularly their offenses, are polar opposites. While each side accumulated nearly 400 yards of total offense in last year's matchup, Maiden racked up 365 yards through the air, while the Rebels put up 376 yards on the ground.
Expect more of the same in tonight's showdown, meaning ball control will be key for West Lincoln. In fact, the best plan of attack for slowing down a high-powered Maiden offense may be to grind out slow, methodical drives that keep the Blue Devils' athletes on the sideline for long chunks of time.
Maiden is led by sophomore quarterback Ethan Rhodes, who's closing in on 1,000 yards passing, more than half of which have gone to senior receiver Dylan Abernethy. What's even more impressive than the yardage and 12 touchdown passes is the fact that Rhodes has only been intercepted once this season on 70 dropbacks.
If last year's matchup is any indication, the Blue Devils will need to rely heavily on Rhodes. Maiden managed just 9 rushing yards on 21 attempts in last year's 31-18 loss to the Rebels.
North Lincoln at LNC
The North Lincoln Knights are riding high coming off last week's comeback victory at West Lincoln, but that slugfest took its toll. The Knights remain on the road for tonight's contest at Lake Norman Charter, where they may have to play without a handful of starters.
Senior quarterback Landon Beard didn't practice Tuesday after leaving last week's game in the first quarter upon aggravating an ongoing ankle injury, marking the second consecutive game he's started but been unable to finish. Junior backup Jack Carter has been outstanding in his absence, however, throwing for 263 yards and 4 touchdowns while rushing for 174 yards and four more scores.
Carter has no shortage of weapons to get the ball to, with running backs Jake Soorus and Sam Brady each averaging nearly 10 yards every time they touch the ball. Brady also leads the team in receiving, while both of Soorus's receptions have gone for touchdowns.
The Knights have also benefitted from the emergence of a pair of sophomore backs in Ty Williams and Kristjian Snyder. Williams iced last week's game with more than 100 yards and a touchdown in the second half, while Snyder ran for 66 yards and 2 touchdowns against Bessemer City two weeks ago.
While North Lincoln will likely be short-handed, Lake Norman Charter has struggled mightily as of late. In fact, Lake Norman Charter is 0-15 against South Fork 2A competition since joining the league in 2017.
Lake Norman Charter suffered a 48-6 drubbing at East Lincoln a week ago, failing to surpass 150 yards of total offense in the process.
North Lincoln dominated last year's matchup between these two teams to the tune of a 49-14 victory. Lake Norman Charter scored twice in the first quarter of that contest, but it was all North Lincoln afterward as the Knights gashed their defense for 547 rushing yards.