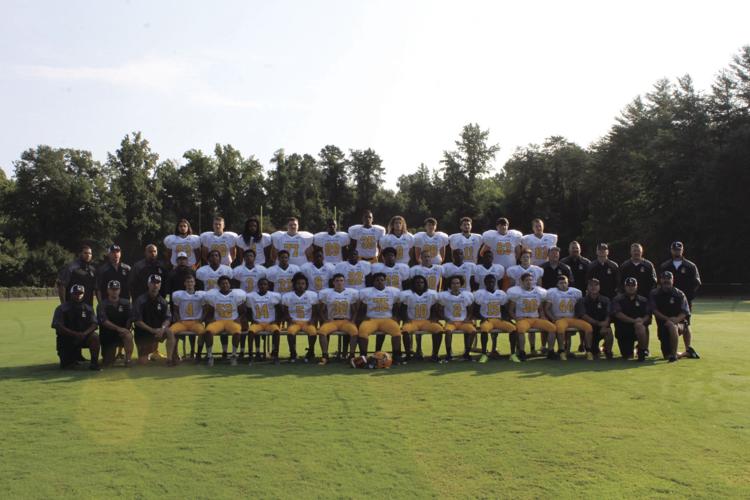 New head coach Joe Glass called Lincolnton a "destination job" upon accepting the position in February. With a pair of state championships and the ninth-most wins in the history of the state; he's not wrong, but the Wolves have lost twice as many games as they've won in the two years since their 2016 run to the West Regional Final, and now it's on Glass to right the ship.
"My number one priority with any football team, whether we're in the process of a rebuild or not, is building relationships with the kids," Glass said. "The kids have to know that you're gonna be strict and make them work hard, but that you're also gonna care about them and love them, and they'll see the benefits of it later on. That's number one for any coaching job."
Glass is familiar with the rebuilding process, however, compiling a 30-22 record in four years as head coach at Jay M. Robinson in Concord, which included an 0-11 mark in his first season on the job. Glass took a program that had gone 10-34 in the four seasons prior to his arrival, and delivered two conference championships and a trip to the West Regional Final four years later.
"The whole 'rebuild' thing is all about work ethic, and getting the kids to buy into your system and believe," he said. "I feel like if the kids know you care about them, they buy into your system and they believe in you, then you can do some great things no matter how bad your record was the year before."
While Lincolnton will feature plenty of fresh faces on offense following the departure of its three leading rushers and top receiving threat, the Wolves will enjoy stability at quarterback, where senior E.J. Manjarres is back to run the show. Manjarres struggled throwing the ball in Lincolnton's run-heavy attack last season, but he's made great strides throughout the offseason, according to Glass.
"It's been a learning process for E.J.," Glass said. "They were in the flexbone last year, and now we're in a two-back spread, so E.J. has grown tremendously over the past three or four months from not being able to complete a pass to throwing multiple touchdown passes in each of our scrimmages. He's starting to get it, and you can see it starting to click, so I just tell him if he'll listen and do as he's been coached, he'll be fine. He's getting better and better each day and each week."
With the departures at running back and receiver, Manjarres will be surrounded by a new arsenal of weapons this season, and Glass likes what he's seen from his players at the skill positions so far.
Senior Dejarris Gash will start on the outside at receiver, and while he hauled in just three passes in a reserve role last season, he intercepted three passes and defended four others from his cornerback position on defense. Deandra Smith, a sophomore, will likely start opposite of Gash at receiver.
"Those are two kids that will help make our quarterback better because they can make plays on balls," Glass said. "They've made some unbelievable plays in our scrimmages so far."
Senior Matthew Byrd, who caught five passes for 63 yards and a touchdown last year, and junior Isaiah Bostic will line up in the slot for the Wolves.
"Isaiah is probably a little quicker, and the slicker one of the two," Glass said. "Matt Byrd, everybody calls him 'little Wes Welker' because he'll stick his nose in there and snag some balls."
The Wolves will deploy multiple runners in the backfield, including seniors Tiaje Ross and Davion Bryant, as well as junior Amontre Finger and sophomore Bernard Wingate.
"We've got a bunch of running backs, so we'll fill that role by committee," Glass said. "Bernard is a bruiser. He's a 200-something-pound running back, who also plays defensive line, and he's run over a few people in our scrimmages. Tiaje is a smaller kid, but he can absolutely fly. He's a kid that, if he gets to the outside, he might be gone. Amontre and Davion are similar in that they're hard-nosed kids who run hard and never stop their feet."
The line opening the holes for those backs will be led by seniors Ethan and Zed Register, who will be joined by a pair of juniors, including center Adrian Hernandez, and sophomore Andre Smith.
"I'm excited about our offensive line," Glass said. "It's a young group, but we are starting two seniors in the Register boys. Ethan and Zed are definitely the anchors of our line. I've got one at tackle and the other one is learning all three positions. I'm excited about this group because I'm gonna get a lot of them back, and once again, they're dealing with a change in things they've done before. In the past they've blocked a certain, and we block a different way now. Our kids are doing very well with the change, which is gonna be our biggest hurdle offensively."
While the Wolves will be undersized defensively, Glass wants his team in attack mode to take advantage of their speed on that side of the ball.
"We're gonna look different defensively than we have in the past because we don't have the kids to run that defense," he said. "We're not gonna be very big, but we're gonna send pressure and let our kids play. We're gonna take some hits sometimes, but we're gonna deliver some hits too. Our defense runs fast and it runs hard, and just really gets after it. I've seen 10 hats flying to the football, and that's been the most exciting part of our scrimmages."
For the third consecutive year, Lincolnton will open the season against a pair of teams from Belmont. The Wolves will travel to Stuart Cramer to open the season Friday, Aug. 23 before returning home to host South Point.