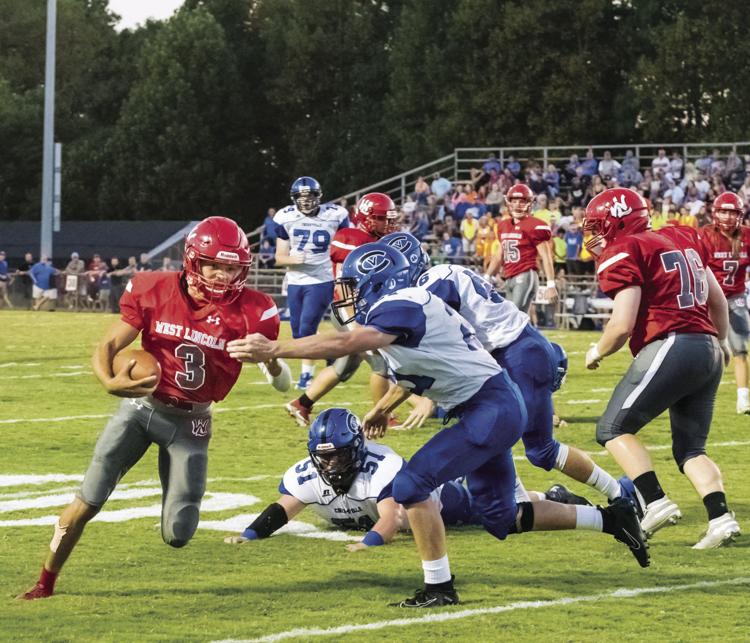 It was deja vu Friday night at Douglas C. Leonhardt Memorial Stadium, where West Lincoln built upon a dominant Week 1 performance against Draughn, riding a first-half rout to a 69-6 victory over the Cherryville Ironmen.
"We've still got a lot of work to do," Rebels head coach Darren Ponder said. "Cherryville has a bunch of kids who are hurt, and they're playing some young kids, so they're going through some struggles right now. We've got a lot of growing to do, and many things we can fix before we get to where we want to be. We're still trying to find a couple positions, with a couple of offensive linemen who still aren't solidified yet, but this team works its butt off. I can't ask for anymore than what they're doing, but it's a process."
Like the game against Draughn two weeks ago, this one was over by halftime. However, while running back Canon Bridges carried the Rebels in the season-opener, West Lincoln showcased an array of weapons this time around, with seven different players finding the end zone.
West Lincoln (2-0) wasted little time asserting its dominance, forcing the Ironmen into a three-and-out on the game's opening drive before marching 61 yards in five plays for the first touchdown of the night. The Rebels ultimately found the end zone on a 14-yard run around the left edge by senior Dylan Beam.
Cherryville punted out of its own end zone on the ensuing possession, setting the Rebels up in prime field position after a solid return. In fact, it only took one play for West Lincoln to double its lead, with Xander Pendergrass finding the edge and turning upfield for a 13-yard rushing touchdown.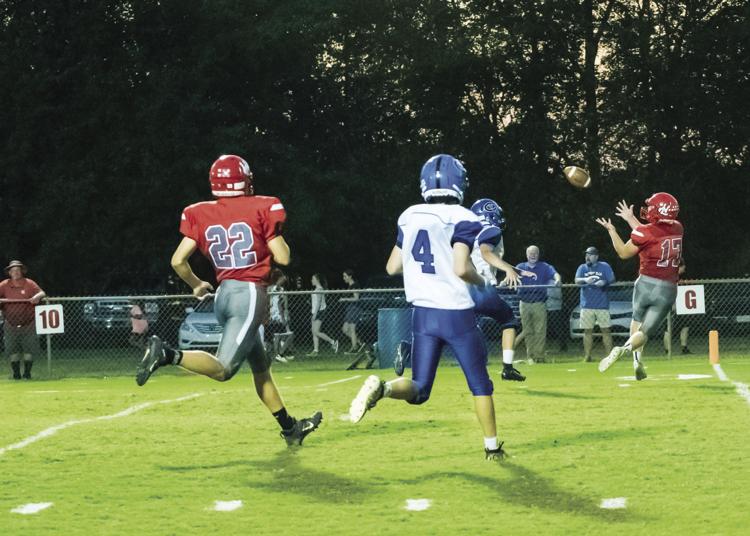 A third consecutive three-and-out forced by the West Lincoln defense led to yet another first-quarter touchdown for the Rebels. West Lincoln turned to the passing attack this time around, with quarterback Mason Huitt finding senior Chandler Carpenter behind the defense for a 17-yard touchdown pass to extend the lead to 21-0.
Huitt took matters into his own hands on West Lincoln's first possession of the second quarter. The junior quarterback fumbled the snap on the drive's first play, but he quickly corralled the ball and found a gaping hole in the Cherryville defense, racing 59 yards to the end zone.
A misfired snap and a delay of game penalty led to 4th-and-26 and yet another Cherryville punt out of its own end zone. Rebels junior Hunter Leonhardt fielded the kick at the Cherryville 35 yard-line before weaving through a series of defenders on his way to the end zone to push West Lincoln's advantage to 34-0.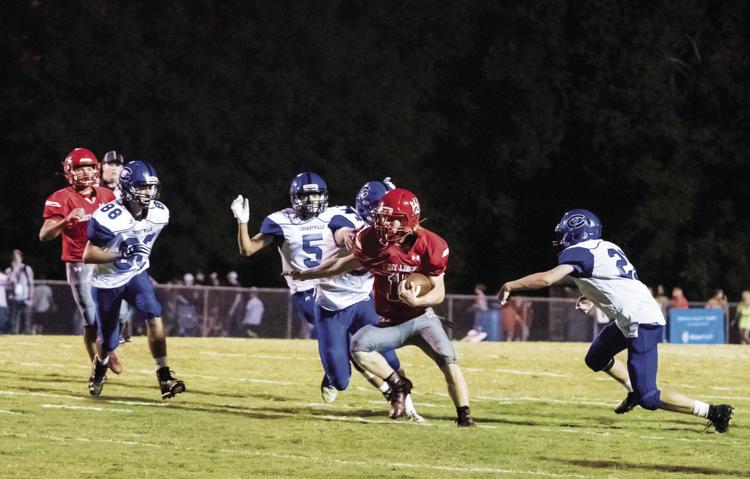 Penalties nearly derailed West Lincoln's next drive, wiping out a pair of would-be Pendergrass touchdown runs, but a 26-yard strike over the middle from Huitt to Samuel Duncan set the Rebels up on the goal line, where Pendergrass walked in from 2 yards out for his second touchdown of the night.
With West Lincoln having built a 41-0 lead, tempers began to flare late in the first half. An unsportsmanlike conduct penalty on the Ironmen set the Rebels up deep in Cherryville territory, with Bridges taking a handoff 24 yards for a touchdown on the first play to give West Lincoln a 48-0 lead at halftime.
The Rebels turned to their second-string offense with a running clock in the second half, and the results were the same. Junior Grayson Barkley powered into the end zone from 5 yards out on West Lincoln's first drive, and then recovered a punt blocked by Luke Scronce on Cherryville's ensuing possession, falling on the ball in the end zone to push the lead to 62-0 late in the third quarter.
Leonhardt, who fills in at running back in addition to his duties as the team's punt returner, shed several would-be Cherryville tacklers on his way to the end zone, racing 45 yards for his second touchdown and West Lincoln's final score of the night.
Cherryville's lone touchdown came late in the third quarter when Jayden Blanton found a crease in the West Lincoln defense for 65 yards.
The Ironmen would have finished with negative rushing yardage on 30 attempts if not for Blanton's long touchdown run. That alone should speak to the dominance of West Lincoln's defense, which held Cherryville to 76 total yards.
As a team, the Rebels rushed for 308 yards on 20 carries, with Pendergrass leading the attack with 88 yards and 2 touchdowns on 6 touches. Huitt completed all 3 passes he attempted, totaling 71 yards and a touchdown through the air. Carpenter reeled in two of those completions for 45 yards, including the touchdown pass.
The Rebels will hit the road for the first time this season when they travel to Fred T. Foard next Friday.