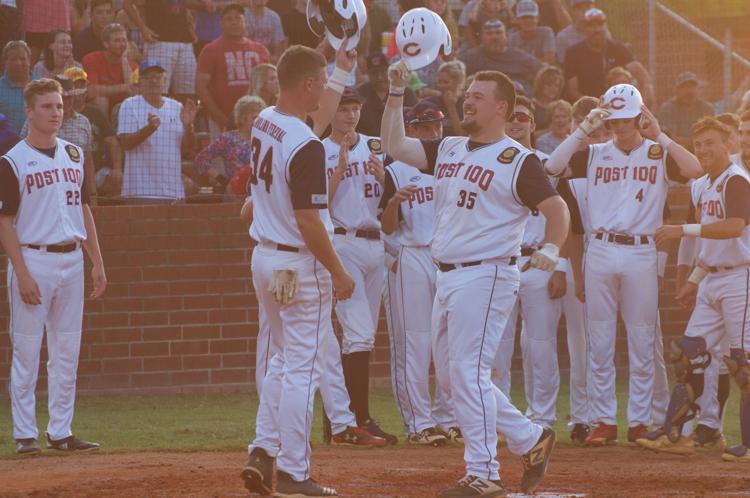 Kinston Post 43 returned to the N.C. American Legion Baseball state tournament for the first time in 49 years Friday night, but Cherryville Post 100 didn't roll out the welcome mat, striking early and often en route to a 10-1 victory.
Starting pitcher Seth Willis punched out three Kinston batters to set the tone in the top half of the first inning before Wes Reynolds stepped to the plate to lead-off the bottom half with a solo home run over the left field fence. Robbie Cowie, the next man up, reached on a throwing error by the Post 43 shortstop, setting the table for a two-run bomb off the bat of Colson Miller that put Cherryville on top 3-0 before Kinston recorded its first out. 
That first-inning barrage proved to be more than enough offense for Post 100, with Willis spinning a gem on the mound. The West Lincoln graduate allowed only two hits in 5.1 innings, striking out 12 while conceding just one unearned run.
With Cherryville leading 4-0 through two innings after Cowie hit a fielder's choice ground ball to shortstop that scored Zach Wilson, Kinston enjoyed its only rally of the night.
Nine-hole hitter Jayden Gatling delivered Kinston's first hit of the game with one out in the third inning, and his speed promptly created problems for Cherryville's defense. Willis airmailed a pickoff attempt at first base, and when Gatling rounded second, Dillon Robinson's throw from foul territory in right field sailed over the head of third baseman Jared Emory, allowing Gatling to score the first and only run for Post 43.
Rather than allowing Kinston to build on that momentum, Post 100 answered immediately in the home half of the third.
The rally started with a one-out single by Brent Walls, which was followed by a pair of walks from Robinson and Emory to load the bases for Wilson. The young shortstop stood calmly in the batter's box and ripped a two-run single into the outfield to push Cherryville's lead to 6-1. Post 100 tacked on another run in the frame when Kinston's third baseman dropped an easy pop-up and then misfired on his throw to second base, allowing Emory to score from third.
Cherryville would go on to add three insurance runs in the bottom of the fifith, starting with a solo shot by Emory to leadoff the inning. Wilson followed Emory's blast with a single, and later scored on an RBI knock by Reynolds, who was eventually chased home on a fielder's choice to cap the scoring at 10 runs for Post 100.
Wilson delivered hits in all four of his plate appearances to lead the Cherryville attack. His two RBIs matched Reynolds and Miller for the team lead.
Cherryville will return to action today at 4:30 p.m. against Union County. Post 100 took three-of-four games from Union in the semifinals of the Area IV playoffs earlier this month.