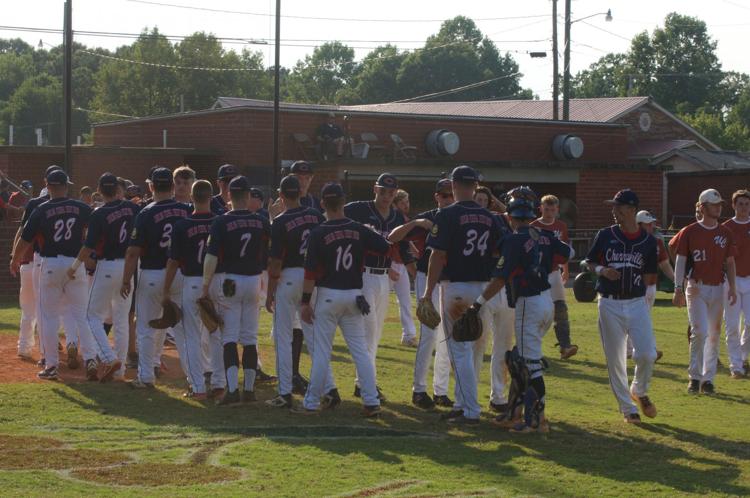 Game 1: Cherryville 10, Kinston 1
Kinston Post 43 returned to the N.C. American Legion Baseball state tournament for the first time in 49 years Friday night, but Cherryville Post 100 didn't roll out the welcome mat, striking early and often en route to a 10-1 victory.
Starting pitcher Seth Willis punched out three Kinston batters to set the tone in the top half of the first inning before Wes Reynolds stepped to the plate to lead-off the bottom half with a solo home run over the left field fence. Robbie Cowie, the next man up, reached on a throwing error by the Post 43 shortstop, setting the table for a two-run bomb off the bat of Colson Miller that put Cherryville on top 3-0 before Kinston recorded its first out.
That first-inning barrage proved to be more than enough offense for Post 100, with Willis spinning a gem on the mound. The West Lincoln graduate allowed only two hits in 5.1 innings, striking out 12 while conceding just one unearned run.
With Cherryville leading 4-0 through two innings after Cowie hit a fielder's choice ground ball to shortstop that scored Zach Wilson, Kinston enjoyed its only rally of the night.
Nine-hole hitter Jayden Gatling delivered Kinston's first hit of the game with one out in the third inning, and his speed promptly created problems for Cherryville's defense. Willis airmailed a pickoff attempt at first base, and when Gatling rounded second, Dillon Robinson's throw from foul territory in right field sailed over the head of third baseman Jared Emory, allowing Gatling to score the first and only run for Post 43.
Rather than allowing Kinston to build on that momentum, Post 100 answered immediately in the home half of the third.
The rally started with a one-out single by Brent Walls, which was followed by a pair of walks from Robinson and Emory to load the bases for Wilson. The young shortstop stood calmly in the batter's box and ripped a two-run single into the outfield to push Cherryville's lead to 6-1.
Post 100 tacked on another run in the frame when Kinston's third baseman dropped an easy pop-up and then misfired on his throw to second base, allowing Emory to score from third.
Cherryville would go on to add three insurance runs in the bottom of the fifith, starting with a solo shot by Emory to leadoff the inning. Wilson followed Emory's blast with a single, and later scored on an RBI knock by Reynolds, who was eventually chased home on a fielder's choice to cap the scoring at 10 runs for Post 100.
Wilson delivered hits in all four of his plate appearances to lead the Cherryville attack. His two RBIs matched Reynolds and Miller for the team lead.
Kinston       001 000 0 - 0 2 3
Cherryville 313 030 x - 10 9 2
Game 2: Cherryville 1, Union County 0
For an offense searching for consistency, Post 100 was unable to build on Friday's 10-run explosion, but another stellar pitching performance locked down a 1-0 victory that secured Cherryville's spot in Monday's state semifinals.
After Union went down in order in the top of the first inning, Reynolds drew a leadoff walk for Post 100 in the home half. An errant pickoff attempt proved to be the only mistake for Union starter Tyler D'Amico, whose misfire allowed Reynolds to advance from first to third before scoring the game's only run moments later, when Cowie lifted a sacrifice-fly to right field.
Walls, Cherryville's starter on the mound, took the early one-run lead and ran with it, allowing just three hits in six scoreless innings of work. While Walls didn't face much traffic on the basepaths, he was effective in crucial at-bats, stranding the tying run on second base in the fourth and sixth innings.
Walls worked himself into trouble once more in the seventh, however, walking the first two batters of the inning to create a jam for Cowie, Post 100's closer.
With runners on first and second and no outs, Cowie's first batter laid down a sacrifice-bunt to advance the tying and winning runs into scoring position.
Staring down what would have been an elimination game against Randolph County Sunday night had Cherryville lost, Cowie fired a fastball past a Union pinch-hitter to record the second out of the inning and then secured the victory by inducing a fly ball to preserve the shutout.
In the ultimate pitcher's duel, Cowie provided the only offense for Post 100, delivering the team's only hit in the third inning after producing its only run in the first.
Saturday's win marked Cherryville's fourth consecutive over Union in the past two weeks, three of which have been of the 1-0 variety.
Union         000 000 0 - 0 3 1
Cherryville 100 000 x - 1 1 0
Game 3: Randolph Co. 5, Cherryville 4
Post 100 was unable to sweep the weekend, falling 5-4 to Randolph County to close pool play.
A pair of first-inning runs put Cherryville on top early, and after Randolph County scratched across single runs in the second and third, a solo shot by Cowie to lead off the home half of the third gave Post 100 the lead back.
Randolph County made its run in the fifth, cutting a 4-2 deficit in half with a triple to deep center, and tying the game moments later on a passed ball. The defense failed Post 100 once more in the sixth, when an error in right field allowed the winning run to cross home plate.
Randolph Co. 011 021 0 - 5
Cherryville     201 100 0 - 4