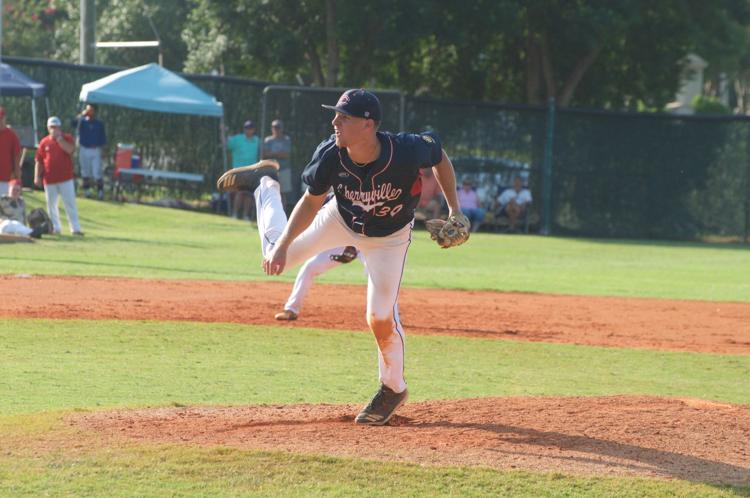 For an offense searching for consistency, Post 100 was unable to build on Friday's 10-run explosion, but another stellar pitching performance locked down a 1-0 victory that secured Cherryville's spot in Monday's state semifinals.
After Union went down in order in the top of the first inning, Reynolds drew a leadoff walk for Post 100 in the home half. An errant pickoff attempt proved to be the only mistake for Union starter Tyler D'Amico, whose misfire allowed Reynolds to advance from first to third before scoring the game's only run moments later, when Cowie lifted a sacrifice-fly to right field.
Cherryville starter Brent Walls took the early one-run lead and ran with it, allowing just three hits in six scoreless innings of work. While Walls didn't face much traffic on the basepaths, he was effective in crucial at-bats, stranding the tying run on second base in the fourth and sixth innings.
Walls worked himself into trouble once more in the seventh, however, walking the first two batters of the inning to create a jam for Cowie, Post 100's closer.
With runners on first and second and no outs, Cowie's first batter laid down a sacrifice-bunt to advance the tying and winning runs into scoring position. Staring down what would have been an elimination game against Randolph County tomorrow night had Cherryville lost, Cowie fired a fastball past a Union pinch-hitter to record the second out of the inning and then secured the victory by inducing a fly ball to preserve the shutout.
In the ultimate pitcher's duel, Cowie provided the only offense for Post 100, delivering the team's only hit in the third inning after producing its only run in the first.
Saturday's win marked Cherryville's fourth consecutive over Union in the past two weeks, three of which have been of the 1-0 variety.
Post 100 will wrap pool play with a game against Randolph County at 7:30 p.m. Sunday. While Cherryville has secured its spot in the semifinals, Randolph County must win to have any hope of advancing.