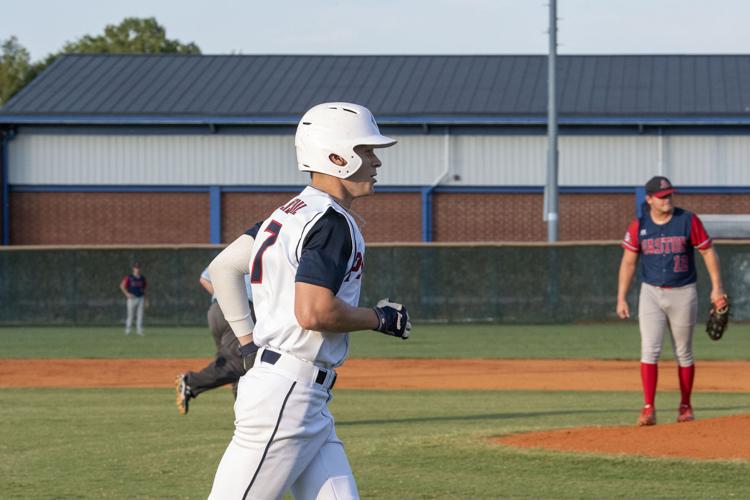 Cherryville Post 100 is back in the N.C. American Legion Baseball state tournament after a one-year hiatus following a dominant run through the Area IV playoffs.
"We finished first in our division, swept our first two playoff series' and only lost one game throughout the entire playoffs," head coach Bobby Reynolds said. "We've been playing well, so even though we're hosting the tournament, we were able to qualify based on the strength of our play."
While Cherryville has rounded into form over the past month, the team struggled early in the season relative to its lofty expectations. Post 100 limped out of the gate, posting a 4-4 record through its first eight games, and a 9-7 mark by mid-June before rattling off six consecutive victories and winning 18 of its last 21 games, including 10-of-11 in the Area IV playoffs.
"We knew we had about three college kids coming back and that they'd be the forefront of our roster when they joined the team," Reynolds said of his team's sluggish start. "West Lincoln also made a deep run in the high school playoffs, and then a bunch of guys went off to beach week after school ended, so we played without our full roster for a while. After beach week we were finally able to bring our full roster together and start developing our pitching staff."
Pitching has been the difference during Cherryville's late-season surge, according to Reynolds.
"Pitching has been our strong point this year," he said. "We've got plenty of arms and we're going to need all of them. Seth Willis, Brent Walls, Dalton Pence and Chris Moxley have been our rotation guys since the playoffs started, and we've been bringing in Robbie Cowie to close games. We've also got Noah Ingle, Zane Beaver and Cooper Sain, who all have good stuff, so we've got quality arms up and down our staff."
Moxley and Pence led the team with three wins apiece during the regular season, while Ingle and Sain were tops in innings pitched. Ingle led the way with a 2.24 earned-run average (ERA), with Walls hot on his heels at 2.37. Sain, whose 3.08 ERA ranked third on the team, led all Area IV pitchers with 45 strikeouts.
With a slew of quality arms on the mound, it's the offense that has to bring it this weekend for Post 100 to make a run at the state championship, according to Reynolds.
"The key is to be more offensive-minded," he said. "Two of our last four wins were 1-0 games, so that doesn't leave much room for error. There are three phases of the game, and our defense and pitching have been stellar, but we need the offense to be more consistent."
The opposing pitchers will only get tougher as Cherryville advances, but the Post 100 bats have proven capable over the course of the season.
Cowie, in addition to his work toeing the rubber, led all Area IV hitters with a .531 batting average in 49 at-bats. His 5 home runs tied for the league lead, and his 33 RBIs outpaced second place by 10. Wes Reynolds also boasts an average better than .500, ranking third in the league, while Walls, Brandon Lail, Levi Kiser, Samuel Duncan and Colson Miller have hit better than .300.
The state tournament includes eight teams, which will be split into two pods for pool play this weekend. Two teams will advance from each division to Monday's semifinals, with the winners of those games to meet in the championship Tuesday.
"The mission this weekend is to qualify for the semifinals as soon as possible," Reynolds said. "Only two teams advance so our goal is to still be playing Monday. If we aren't, it won't be for a lack of effort."
Cherryville will have the homefield advantage, welcoming Area IV-rival Union County, Kinston and Randolph County for three games in three days. Wilmington, Fuquay-Varina, Davidson County and the Gaston Braves will square off on the other side of the bracket.
"It's just more comfortable," Reynolds said of playing at home. "We'd love to give the crowd something to cheer for and put on a good show."