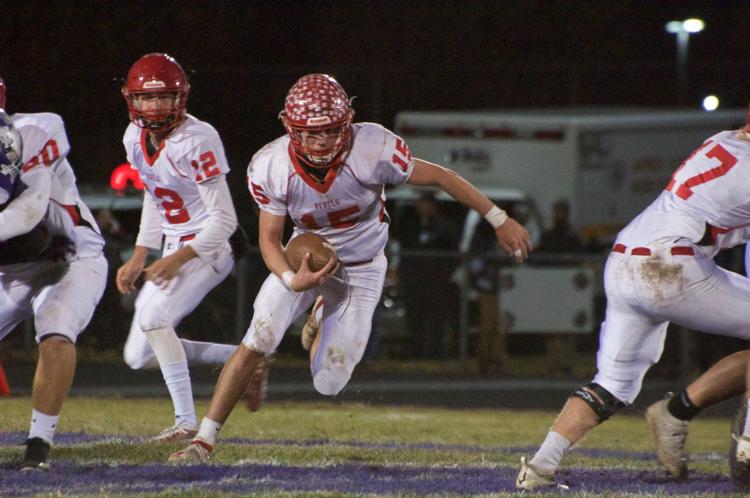 The 2019 West Lincoln Rebels won't soon be forgotten, and regardless of the outcome of Friday's game against Shelby in the third round of the playoffs, the Vale community will forever remember the ride this team has taken them on this season.
"It was emotional," West Lincoln head coach Darren Ponder said of last week's win over South Point in the first home playoff game in program history. "There were people that I didn't even know who were coming up and hugging me after to tell me how much that game meant to them. It was a great night for the kids and a great night for the community too."
It was also a great send off for the West Lincoln seniors in their last game in front of the Rebels' faithful. Among those seniors is Canon Bridges, who carried the ball 33 times for 162 yards and 2 touchdowns in his final home game.
"All the seniors knew that would be our last time on that field, so we just wanted to take it all in," Bridges said. "We weren't about to lose our last game at home."
Friday's game was just a microcosm of the monster season Bridges has had to this point. With 2,215 rushing yards and 32 touchdowns, he's just 71 yards short of the Lincoln County single-season rushing record.
"Canon is the reason for the word relentless," Ponder said of his senior leader. "That's the way he is in practice and in games. I've never seen a kid maintain that level of energy for as long as he does. It's like he never gets tired. Relentless is the perfect word to describe Canon and the season he's had."
Last week's historic home game wouldn't have been possible without the Rebels making a bit of history the week before. West Lincoln had never won a playoff football game in its nearly 50-year history, that is until this year's team went up the mountain to Ashe County, where they handed the Huskies a 48-6 thrashing in the first round of the playoffs.
Another senior, Dylan Beam, delivered a key blow in that game, intercepting a pass from his outside linebacker position and returning the ball about 60 yards for a touchdown to put the Rebels up 28-0 in the second quarter.
"This has been everything to me," Beam said of his senior season. "I've worked my whole life since I was a kid to have that moment, and big-time players make big-time plays, so I had to step up for my team. It's just been a crazy ride."
Senior linebacker Chandler Carpenter is another key cog in that West Lincoln defense, which has hit its stride at the right time after allowing 63 points to East Lincoln on the first night of November.
"I feel like this is the best our defense has played in a while," Carpenter said. "We've been working hard these past couple weeks in practice, getting after it to get ready for these games. The bus ride home from Ashe County after our first-ever playoff win was pretty fun."
The win over South Point Friday night was West Lincoln's 10th victory this season, breaking the program record set by last year's team. Senior Nathan Beam summed up what's led to all the success on the field for the Rebels this year.
"I just feel like it's one of those things where everybody on this team came together early in the season, and that's what's helped us win some of these close games," Beam said. "We've been playing for each other this season."
Next up for West Lincoln is a road trip to play the top-seeded Shelby Golden Lions on the night after Thanksgiving. The Rebels met Shelby in the first round of the playoffs a year ago, falling 27-8 to the eventual 2AA state champions.
"They're loaded," Ponder said of Shelby. "Shelby's a storied program and we're looking forward to it. We're gonna go down there Friday night and give them everything we've got because those are the kinds of kids we have. They don't know the word 'quit.'"