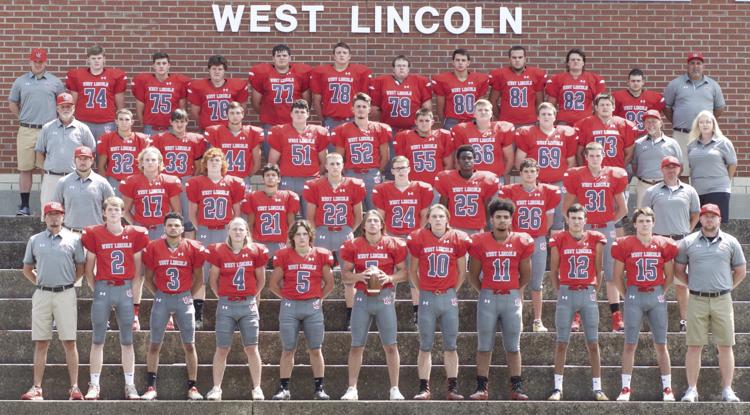 The West Lincoln Rebels are coming off a nine-win season, a record-setting mark for the program, but there's still work to be done after a first-round exit from the playoffs against the Shelby Golden Lions, a perennial power that notched its 17th state championship last year.
Darren Ponder – who led a stingy defense that only allowed more than 20 points twice, including the loss to Shelby – has taken over as head coach in place of Tom Sain. While Ponder is left to replace a pair of 1,000-yard rushers and quarterback Seth Willis, who ranked third on the team with more than 500 yards on the ground, the Rebels' offense will still be built around the run.
"With the personnel we've got, we're gonna run the ball first," Ponder said. "My belief has always been that if you can't stop the run, then the rest of it doesn't matter. There's nothing more degrading to a defense than not being able to stop the run, so we're gonna pound it and pound it, and have a chance in the fourth quarter to wear teams down."
The personnel Ponder's referring to includes a trio of standouts from his defense last season, each of whom flashed ability on the other side of the ball when given the opportunity.
Under Sain, West Lincoln's option offense was always built around its fullback, and senior Canon Bridges will fill that role for Ponder in 2019.
Bridges was fourth on the team with 50 carries last season, making the most of his touches by posting 501 rushing yards and six touchdowns.
With Bridges filling the role of Nakathon Phansook, who led the team with 14 touchdowns last year, senior Xander Pendergrass replace Brendon Ikard, the team's leading rusher with more than 1,100 yards.
"At tailback I've got Xander Pendergrass, who's the fastest kid we have on the team," Ponder said. "For the past three years he's had to back-up Ikard, so he's wanting to carry that thing about 30 times a game."
Pendergrass carried the ball just 34 times total last season, but he gashed defenses to the tune of 327 yards and four touchdowns.
Junior quarterback Mason Huitt will orchestrate the offense, and while he only took a handful of snaps last year, Ponder likes his potential fit in the Rebels' scheme.
"I've got Mason Huitt, who's my safety also, he'll be the quarterback," he said. "He's a very fast kid, and a good athlete, but he's just inexperienced at that position."
Ponder is also replacing four of his five offensive linemen, but with only two sophomores on the roster, most of the new faces in the starting lineup have years invested in the program.
"I've got some good players to replace them, but they're just not proven yet," Ponder said.
While the offense has undergone an overhaul in terms of personnel, the defense – Ponder's specialty – returns nine starters from a unit that allowed the fewest points in the South Fork 2A last season.
Bridges, an outside linebacker, was a nightmare for opposing offenses, leading the team with 107 tackles, including 24 stops in the backfield and 3.5 sacks.
"Cannon Bridges very easily could have been the defensive player of the year last year," Ponder said. "And, in my opinion, he should have been."
Fellow seniors Chandler Carpenter and Dylan Beam will join Bridges on the linebacker corps. Carpenter ranked second on the team with 60 tackles, while Beam wreaked havoc in opposing backfields with 12 tackles for loss, 3.5 sacks and two forced fumbles.
"Those guys are my leaders," Ponder said. "They're my hardest workers."
Pendergrass and Huitt will lead the secondary, with each having defended eight passes a year ago, while Pendergrass recorded an interception as well.
Ponder also returns all three members of last year's defensive line, and all are seniors in 2019. Alex Hall, who led the trio with nine tackles in the backfield and 2.5 sacks, will rush on the opposite end of Nathan Beam. The two ends will be split by nose tackle Harley Scronce, who like Beam, didn't play a full slate of games in 2018.
"We're gonna be senior-heavy on defense this year, and I've got big expectations for them," Ponder said. "A lot of these guys are in their third year starting, so they know the base defense so well that they get bored with it. What that does is allow me to play with stuff and put in new things. I can put in new fronts and throw out new looks, which hopefully confuses their offensive linemen."
The Rebels will be the only Lincoln County team to open the 2019 season at home, when the Draughn Wildcats come to town Friday, Aug. 23 at 7:30 p.m.