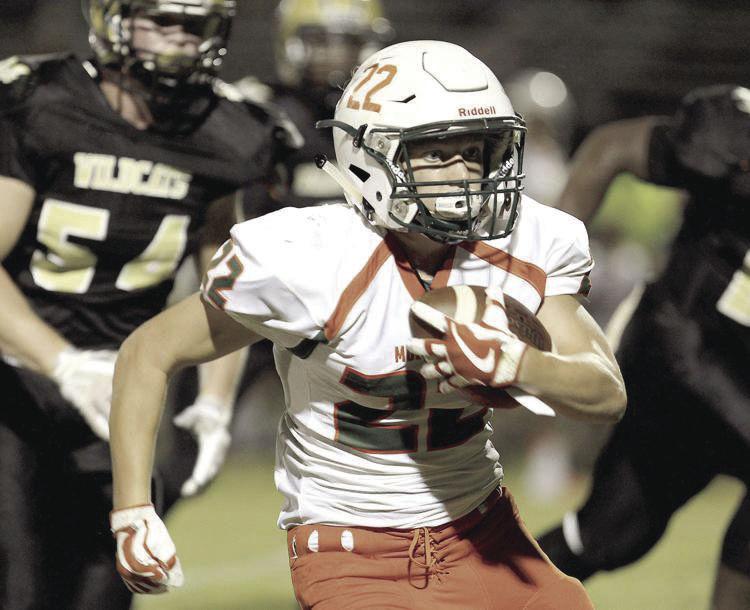 The faithful fans in Denver will get a first look at their beloved Mustangs in tonight's home-opener against the North Gaston Wildcats.
East Lincoln has given its supporters plenty to be excited about in 2019 after opening the season with a pair of convincing road victories over East Rowan and Ashbrook. The Mustangs showcased their depth at the skill positions in Week 1, with six different players scoring a touchdown, while a stingy defense was on display a week ago, holding Ashbrook to a single touchdown.
North Gaston, on the other hand, has dropped two in a row after an opening night victory over East Gaston. The Wildcats were shutout at home by Polk County in Week 2 before falling 32-14 to Lincolnton last week.
Speaking of that Lincolnton game, the Wildcats struggled to contain a Wolves passing attack led by freshman quarterback Reed King, who was making his first varsity start under center. East Lincoln quarterback Justin Barnette, a senior who's amassed 338 passing yards and 5 touchdowns through two weeks, has an array of weapons at his disposal to exploit the North Gaston secondary.
The Mustangs and Wildcats should be familiar with one another after squaring off in each of the past two seasons.
While North Gaston earned a 28-7 victory in their first meeting in 2017, the Mustangs got their revenge last year. Chase Jones, last year's starting quarterback for East Lincoln, tallied 4 touchdowns in leading the Mustangs to a 41-22 victory.
East Gaston at Lincolnton
The Lincolnton Wolves are riding high following their first victory under new head coach Joe Glass at North Gaston last week. The Wolves return home tonight to face another Gaston County school in the East Gaston Warriors.
Freshman quarterback Reed King was stellar for the Wolves in his first varsity start under center, completing each of his first 8 pass attempts en route to a 12-of-16 performance for 137 yards and 2 touchdowns. King's success through the air helped unlock a struggling Lincolnton rushing attack, which exploded for 200 yards and 2 touchdowns in last week's victory.
East Gaston enters tonight's contest with an 0-2 record, losing 21-14 to the same North Gaston team Lincolnton beat a week ago, and 34-0 to a Stuart Cramer side the Wolves played to within a field goal in Week 1. The Warriors have struggled to find consistency from the quarterback position, with a pair of signal callers combining to throw 3 interceptions through their first two games.
It won't get any easier for East Gaston against a Wolves defense that's allowed just 38 points through three games. While undersized, Lincolnton flys to the ball, and there are playmakers on each level, including senior cornerback Dejarris Gash, who returned an interception 60 yards for a touchdown last week.
Even with the difficulties Lincolnton's faced over the past two seasons, the Wolves have had no problem taking care of business against East Gaston. While last year's team only won twice all year, one of those victories was a 46-0 shellacking of the Warriors, which included 6 rushing touchdowns by Jamal Littlejohn, who has since graduated.
West Lincoln at Fred T. Foard
The Rebels have been nothing short of dominant in beating Draughn and Cherryville by a combined score of 121-19 in their first two games this year.
As always, West Lincoln hangs its hat on establishing the run game and playing lockdown defense. After running back Canon Bridges exploded for 269 yards and 5 touchdowns in Week 1, the Rebels spread the wealth a week ago, with five different players finding the end zone in a 69-6 drubbing of Cherryville.
Foard enters tonight's matchup on the other end of the spectrum, still in search of its first victory following a disappointing 0-3 start to the season. The Tigers opened the season with a pair of losses to their Catawba County neighbors in Maiden and Bandys before suffering a heartbreaking 55-52 loss to a Draughn squad West Lincoln rolled over 52-13 in Week 1.
Now known as the Battle of Hog Hill, West Lincoln and Foard have played each fall since 1962. The Rebels fell 22-20 in their last trip to Foard in 2017, but avenged that loss with a 42-10 victory over their rivals a year ago. The Rebels gashed Foard for 268 yards and 3 touchdowns on the ground in that matchup, while adding two more touchdowns through the air.