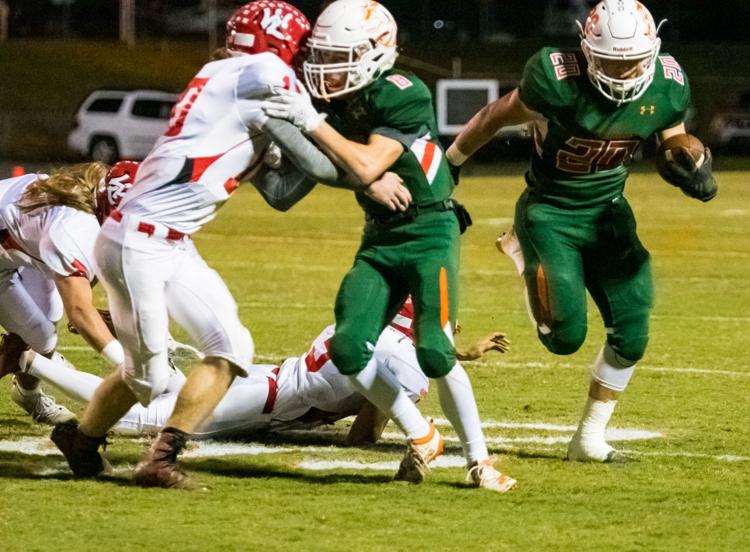 Tonight marks the final slate of regular season games before the playoffs kick off next week, and while East Lincoln and Newton-Conover are firmly in the playoff picture, tonight's game is likely to determine which team gets a higher seed.
Both the Mustangs and Red Devils enter tonight's matchup with identical 4-2 records in league play, as does Maiden, but the Blue Devils have beaten East Lincoln and Newton-Conover in consecutive weeks, and thus can clinch second place in the South Fork 2A with a win over Lincolnton tonight. Assuming Maiden takes care of business, the Mustangs and Red Devils are playing for third place tonight.
East Lincoln went through a rough stretch in early October, struggling to beat Lincolnton before taking a drubbing at North Lincoln, but the Mustangs have bounced back in a big way since. They've done it with defense, shutting out Bandys, and their offense exploded for 63 points in a win over West Lincoln last week.
Newton-Conover, on the other hand, has lost consecutive games. The Red Devils were undefeated in conference play entering a showdown with North Lincoln two weeks ago, but the Knights cruised to a dominant 43-7 victory, and Newton fell to Maiden in double overtime last week.
On paper, this appears to be an evenly-matched contest.
Both offenses are balanced, although the Red Devils lean a bit more on the passing game, while East Lincoln has placed a greater emphasis on its rushing attack over the past three weeks.
Newton quarterback Justice Craig, a junior, is just shy of 1,550 passing yards this season, while senior Justin Barnett is closing in on 1,300 passing yards for the Mustangs. Barnett has the advantage in touchdowns, with 16 compared to 12 for Craig, and both have thrown 8 interceptions.
East Lincoln senior Cole Barber is the league's second leading rusher at 989 yards, and Newton's Allen Wilfong isn't far behind at 912, although Wilfong has carried the ball 64 more times than Barber. Barnett is East Lincoln's second leading rusher with 606 yards, and he's nearly averaging a first down every time he runs the ball.
These teams met on the final night of the regular season last year as well, with the Mustangs winning convincingly, 38-16.
The difference in that game was East Lincoln's ability to stop the run, as the Mustangs held Wilfong to just 30 yards on 12 carries, while Barber amassed 105 yards on the same number of touches. As a team, the Mustangs racked up nearly 250 rushing yards at better than 7 yards per carry, while Newton-Conover managed just 100 yards on less than three yards per carry.
LNC at West Lincoln
The Rebels are likely to be in a bad mood after last week's 63-35 beating at East Lincoln, while senior running backs Canon Bridges and Xander Pendergrass are surely frothing at the mouth to carve up a porous Lake Norman Charter defense in their final game at home.
Bridges, in particular, will be looking to put a subpar game against East Lincoln behind him. It's not that the senior wasn't effective against the Mustangs, totaling 87 yards and a touchdown on 18 carries, but he was held under 5 yards per carry for the first time this season.
Bridges leads the league in rushing by a mile, with more than 1,500 yards and 22 touchdowns on the season. Bridges is the work horse, with nearly 200 carries this season, while Pendergrass is the big-play back, averaging better than 8 yards per carry en route to 950 yards and 12 touchdowns.
Expect big numbers from both tonight, as Lake Norman Charter allowed nearly 500 rushing yards to Bandys a week ago. The Lake Norman Charter defense is far and away the worst in the league, allowing 449 points thus far, which is nearly 200 more than the second worst team.
That's not to say the Rebels can sleepwalk through this game after a disappointing loss last week. Lake Norman Charter hasn't won a game in conference play since joining the league in 2017, and the Knights will be desperate to avoid three straight winless seasons in the South Fork 2A.
West Lincoln's defense needs to get back on track heading into the playoffs after being gashed at East Lincoln, and while Lake Norman Charter has struggled this season, the Knights have weapons on offense. Specifically, junior quarterback Jeff Womack ranks third in the conference in passing yards, and his primary target - senior Jaden Goodman - has 611 yards and 7 touchdowns on 49 catches.
Maiden at Lincolnton
Maiden and Lincolnton have had some epic battles over the years, forming quite the rivalry in the process. The Wolves aren't what they once were, but what better way to end a difficult season than by spoiling Maiden's bid for a second-place finish in the conference?
It's Senior Night at Lincolnton, and the Wolves have a host of players looking to go out on a high note in their final game under the Friday night lights.
The Wolves feature a bevy of seniors at the skill positions, including quarterback E.J. Manjarres, who provided a spark for the Lincolnton offense in the second half at West Lincoln and led a comeback over Lake Norman Charter on homecoming for Lincolnton's only league win this season. Classmate Dejarris Gash has been his favorite target on the outside, ranking second in the league with 650 receiving yards.
A quartet of seniors has led the way for a stout Lincolnton defense. Davion Bryant leads the team with 96 tackles, while Matthew Byrd, Christopher Borders and Malachy Mcgrisken all have more than 50 tackles. Borders leads the team with 5 sacks, and Gash stars on defense as well, with 3 interceptions from his cornerback position.
North Lincoln at Bandys
North Lincoln has already secured its first conference championship in program history, but the Knights can't afford a let down tonight. North Lincoln is playing for playoff seeding, and appear primed for one of the top four seeds in the West barring a hiccup at Bandys.
The Knights have outscored their South Fork 2A opponents 273-35, and show no signs of slowing.