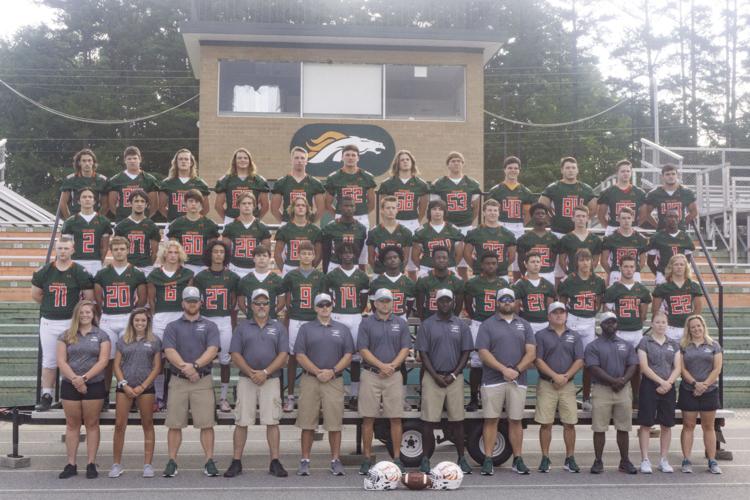 The East Lincoln Mustangs have essentially been a .500 football team over the past two seasons, which have been marked by early season struggles followed by lengthy winning streaks before eventually evening out to a middle-of-the-pack finish.
While the dominant East Lincoln teams of the past decade have won with offensive firepower, this year's team will hang its hat on the other side of the ball. The Mustangs ranked third in points allowed among South Fork 2A defenses last season.
"Defense was our strength last year, and it should be again this year," head coach David Lubowicz said. "Our entire defense is predicated on how good our front seven is. Our three defensive linemen are phenomenal, and it all starts with how aggressive they are … We're pretty dang excited about our defense. We've still got some question marks offensively, but our defense should be strong."
It's often said that football games are won and lost in the trenches, and that bodes well for the Mustangs, who return a pair of game-wrecking defensive ends.
Trent Smith, who exploded onto the scene in 2018 with a monster sophomore season, will man one end of the line, while senior Blaine Dellinger, who Lubowicz said may be their best defensive player, will line-up on the other side. Last year, Dellinger recorded 125 tackles, including nine for a loss of yardage, and 10 sacks, while Smith posted 112 tackles, 13 of which were made in the backfield, and 14 sacks.
Even when opposing offenses are able to contain Dellinger and Smith, senior middle linebacker Ethan Martin is likely to be there to meet the ball carrier in the hole. Martin ranked second on the team last year with 206 tackles in 13 games, which averaged out to more than 15 tackles per game.
East Lincoln's other returning linebackers, juniors Paulie Menegay and Langdon McCall, will man the outside backer positions. McCall finished one tackle shy of 100 as a sophomore, while Menegay recorded 78 stops – including eight in the backfield – and each registered four sacks.
The biggest hole to be filled from last year's defense resides at the other middle backer position next to Martin, where Jud Reel led the team with 215 tackles.
The final piece of East Lincoln's lockdown defense is the secondary, where all four starters return from a year ago. Preston Cox is back after leading the team with five interceptions and five passes defended as a sophomore, as well as senior Trevor Filo, who picked off three passes and batted down four others from his cornerback position.
Senior quarterback Justin Barnette will take the reins of an offense in search of a spark.
Barnette and the Mustangs traveled into the mountains to take on top-seeded Pisgah in the first round of the playoffs last year, and his last-minute, game-winning touchdown pass sealed a 13-10 upset victory. Barnette was 7 for 11 for 100 yards and two touchdowns to offset a pair of interceptions.
"Justin's the guy," Lubowicz said. "He was hurt last year for about eight weeks or so, and he came back for the last four games, playing receiver in one and quarterback in the other three. He was originally going to compete for the quarterback job last year before he broke his leg. He's been phenomenal. If he stays healthy we're gonna be pretty good, so we're excited about what he can do. He's just a fantastic athlete. He can throw it a little bit, he can run it a little bit and he really understands the game."
C.J. Barber led the Mustangs' ground game in 2018, and he's back for his senior season. Barber racked up 693 yards and seven touchdowns, averaging nearly six yards per carry.
While Barnette will have the services of last year's leading rusher, he'll be without the Mustangs' top target in the passing game a year ago. Sidney Dollar was a matchup nightmare, hauling in 10 of East Lincoln's 18 touchdown passes.
Senior Mikivi Phinx is the leading returning receiver after hauling in 22 receptions for 307 yards in eight games. The Mustangs will also benefit from McConnell's return to the offense following injury troubles last year.
In terms of the offensive line, East Lincoln is in the same boat as the rest of the county teams, with a solid starting five but concerns if their depth is tested.
"Our offensive line is really good, but we don't have a lot of depth at each position," Lubowicz said. "Figuring out where that depth might come from has been a primary focus throughout our scrimmages. We've got a couple of JV kids that might be able to step in, and we've also got a couple of guys on our defensive line who could potentially play both ways."
The Mustangs are the only Lincoln County team without a game in week one. East Lincoln will open its season on the road against East Rowan Friday, Aug. 30.
"We're gonna try and make tomorrow night's scrimmage against Stuart Cramer as game-like as we possibly can," Lubowicz said Thursday afternoon. "We like our first four games. We like who we're playing, but we just wish our off week wasn't the first week."