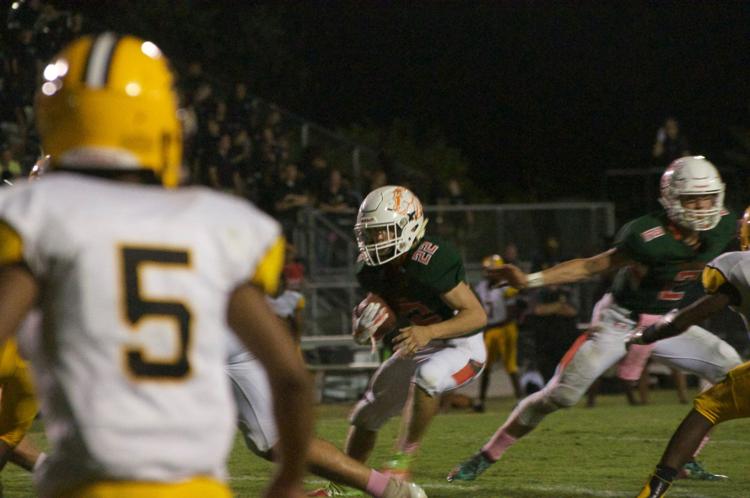 The Wolves and Mustangs left it all on the field Friday night in a battle of county rivals, but it was East Lincoln that emerged victorious, winning 10-7 to improve to 6-0 on the season.
"We were down at halftime, and we talked to the guys about staying the course," East Lincoln head coach David Lubowicz said. "We told them to keep wearing on them and that we'd break through eventually because I think we were in a little better condition with the injuries they were dealing with coming into tonight's game, so that obviously helped us a lot. That is a great defense over there. I thought Ashbrook had a very good defense, and Lincolnton's defense was faster than what Ashbrook had. My hat's off to Lincolnton and their defensive staff because that was a phenomenal game. It's fun to be in those games, and it's especially fun to win against a cross-county rival. What a great Friday night to be a part of."
A sloppy first half that featured five combined turnovers gave way to a scoreless third quarter, with the Mustangs down 7-3 entering the fourth.
A fast, physical Lincolnton defense held East Lincoln in check throughout the night, and when the Mustangs finally found a rhythm offensively early in the fourth quarter, a fumble in the red zone gave the ball back to the Wolves.
East Lincoln's defense, which matched Lincolnton's blow for blow from start to finish, forced a three-and-out on the ensuing possession, and a blocked punt gave the ball back to the Mustangs right where they fumbled it away moments earlier. East Lincoln didn't let this opportunity slip through its grasp, with senior running back Cole Barber finding a seam for 17 yards and a touchdown on the drive's first play, giving the Mustangs their first lead at 10-7 midway through the fourth quarter.
The Wolves ran a trick play to start their next possession, but Davion Bryant's running back pass was intercepted by Lucas McConnell to give the ball right back to the Mustangs. Then, reminiscent of a turnover-plagued first half, East Lincoln fumbled the ball right back to Lincolnton at midfield.
With the game on the line, the Mustangs stood tall on defense one final time, forcing yet another three-and-out with about four minutes left to play.
Lincolnton head coach Joe Glass put his faith in his defense, opting to punt on 4th-and-11, and the Wolves stepped up with another stop when it counted most. With the Wolves set to get the ball back with 45 seconds and no timeouts, a fatal mistake effectively ended the game when Lincolnton jumped offsides with the Mustangs in punt formation, gifting East Lincoln a first down that sealed the victory.
"Our defense just kept fighting play after play after play," Lubowicz said. "We'd turn the ball over and they'd come out and get a stop. We'd go three-and-out and they'd come out and stop them. Literally, that's probably the best defensive game that I've seen here in five or six years. That was a great effort, and we knew coming into the season that we'd be pretty dang good on that side of the ball, but they've really just blown our expectations out of the water."
The defenses dominated from the opening whistle, as the game remained scoreless through the opening quarter.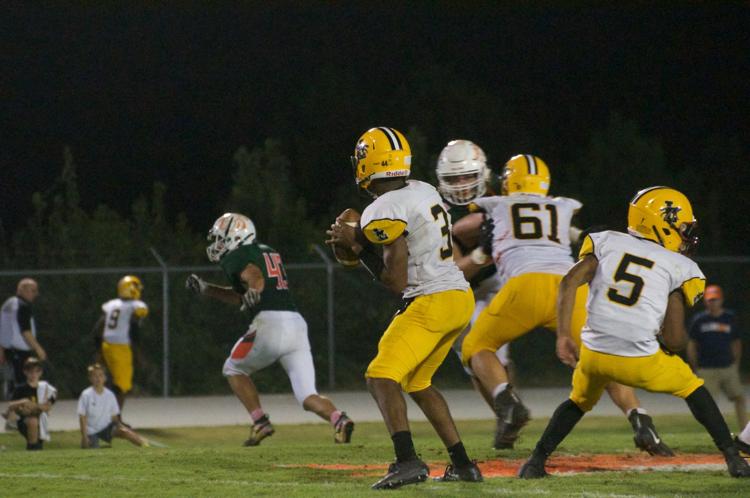 Reed King, Lincolnton's freshman quarterback, was knocked out of the game with the Wolves driving into East Lincoln territory in the second quarter. Starting running back Amontre Finger moved under center to replace King, and promptly hit senior wideout Dejarris Gash with a 7-yard touchdown pass for the game's first score, giving the Wolves a 7-0 lead with 8:29 left before halftime.
The Mustangs (6-0, 2-0 SF2A) will travel to North Lincoln next week for another showdown between county rivals. The Wolves (2-4, 0-2 SF2A) will host Bandys in search of their first victory in league play.