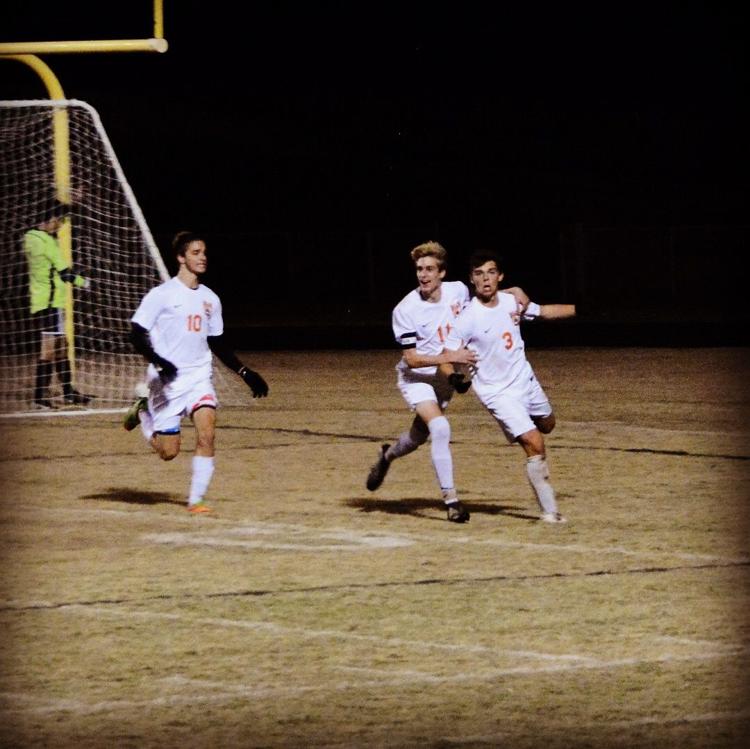 East Lincoln turned heads last fall en route to the quarterfinals of the 2A state playoffs, and with eight seniors returning, the high-powered Mustangs enter 2019 among the top teams in the state.
"Last year was my fifth with the program, and before then we had not won a playoff game since I've been here," head coach Billy Howell said. "I remember I asked the guys what their goal was before last season, and several of them said they just wanted to win a playoff game. We ended up winning three, and now this year I can look at them ask, 'Do we know what the goal is?' and they all nod their heads. They know what they want, and it's just a matter of doing the things required to get there. 'Trust the process' is something they've heard me say a lot."
Like last year – in which the Mustangs led the South Fork 2A with 68 goals in 14 league games, nearly 20 more than second best – East Lincoln's attack will be led by senior twin brothers Chase and Logan Gilley.
Chase Gilley, last year's South Fork 2A Offensive Player of the Year, broke a pair of school records with 45 goals and 27 assists, averaging better than one each per contest. Logan had a monster season in his own right, scoring 39 goals and assisting on 19 others, with both marks good for second-best on the team.
"Logan always brags about being five minutes older, and then Chase brings up the record," Howell said. "They compete against each other and they make each other better, and it's just fun to watch because there's things I can't coach that they can do because of the connection they have. I call them the Wonder Twins. They bring a different dynamic that you don't see a lot, and because of that we're able to do some things that not a lot of other programs can do in terms of the way we set up."
Despite the eye-popping numbers, Howell raved about Chase and Logan and their will to win, which is the primary focus entering their final season in green and orange.
"Last year showed us what it takes to get there," Chase Gilley said.
What it takes to get there is mettle and determination, which is something Howell saw plenty of from his group during last year's playoff run.
"We scored a lot of goals and won a lot of games, but what impressed me most was that we trailed in six games that we won last year, including two of our playoff games," he said. "Noah Graden, who scored the tying goal in our third round win over Surry Central, had four goals all season, and I think two of them were in the playoffs. Tyler Swanson, our center back who scored two goals all season, his second was the game-winner in that same game. What I saw last year was that when we needed it most, someone was there to step up, and no matter the situation, the boys kept fighting."
Now, for the Mustangs to get there again and then some, it's about taking care of the little things, according to Logan Gilley.
"There's still room to improve our passing, moving and talking, and we can get a little cleaner with our defense," he said. "We obviously want to keep scoring at a high clip, but we also need to cut back on the goals we allow. If you look back at last year, a lot of the goals we allowed resulted from scrambles or long crosses into the box, so we need to clean up those little things."
Chase Gilley also mentioned set pieces when asked for an area of improvement.
"Set pieces are huge, attacking and defending," he said. "It's a big part of the game and can be the difference between winning and losing."
Howell echoed Chase Gilley's comments about set pieces, especially defending them, calling that aspect an Achilles heel of last year's team.
While East Lincoln returns a good deal of last year's roster, the biggest loss is likely midfielder Miller Towson, who ranked third on the team with 14 goals and 15 assists. His production will be missed, but it's Towson's intangibles the Mustangs will miss most, according to Howell.
"The twins were head and shoulders above in terms of stats, but Miller was that guy in the middle who was able to control things and open things up for them," Howell said. "He was just non-stop effort, and he'd go until he couldn't go. He got sick at halftime of our last game against Salisbury last year, and he sat out maybe the first 15 or 20 minutes of the second half, but as soon as he came back the game changed and we scored two goals to tie it. We've got to find somebody that has that work ethic and energy in the middle, and I think we've got guys who are capable."
The Mustangs will be tested early and often, opening the season with a pair of road games, including tonight's date with Hickory and a showdown with 4A powerhouse South Mecklenburg next Tuesday. East Lincoln will play its first home game next Thursday against Forestview, which won a pair of playoff games last year.
"We wanted to start the season with some big games to see where we are," Howell said. "If we win all three that's fantastic, but if we lose all three it's not the end of the world. It's a good way to measure our team and see how far off we are from where we need to be to accomplish our ultimate goal."
In addition to those non-conference matchups, the Mustangs will once again have to go through Newton-Conover to win the program's third conference championship. The Red Devils have played in three of the past five state championships, winning two before falling in last year's title game against Clinton.
East Lincoln's season-opener tonight against Hickory is slated for a 6 p.m. start.