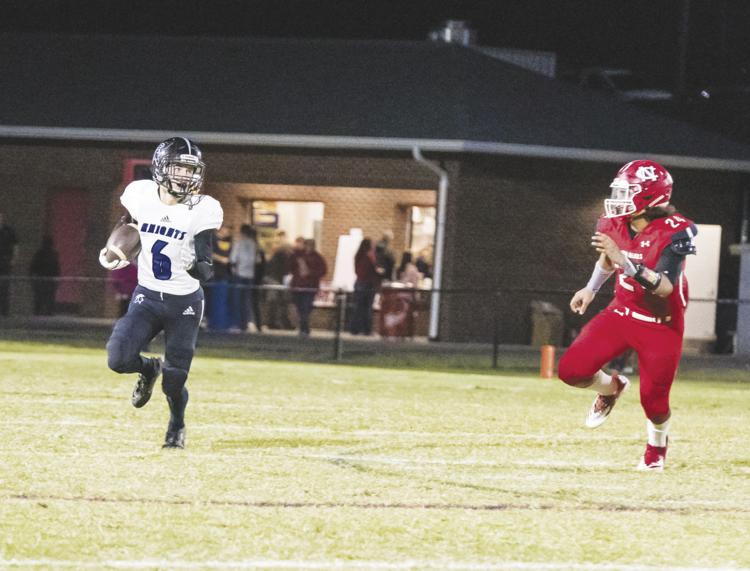 In what very well may be the marquee matchup regardless of classification across the state of North Carolina tonight, the Burns Bulldogs will visit the North Lincoln Knights for a berth in next week's 2AA West Regional Final.
You'll be hard pressed to find a team playing better than the Knights of late, with North Lincoln winning 12 straight since a season-opening loss at Parkwood. The Knights rolled to a 42-10 victory over the Pisgah Bears a week ago, scoring 28 unanswered points in the second half to dispatch their second-round opponent.
The Bulldogs also lost their season opener, falling to 3A power Kings Mountain, but their only loss since came on the road at Shelby. Burns steamrolled No. 3 Hibriten on the road last week, racing out to a 38-14 halftime lead before eventually hanging 52 points on the scoreboard.
North Lincoln's triple-option offense is operating with incredible precision, and with weapons all over the field, the Knights haven't been held under 40 points since the end of September.
It all starts with senior quarterback Landon Beard, who's been in full control of head coach Nick Bazzle's system since returning from injury in early October. Beard powered North Lincoln past Pisgah last Friday, rushing for 186 yards and 3 touchdowns on just 15 carries.
Next is fullback Ty Williams, a sophomore who carries the heaviest load for the Knights on most nights. Williams, who's rushed for 1,200 yards and 20 touchdowns, softens up the middle of the defense before seniors Jake Soorus and Sam Brady attack the edges with speed. Soorus and Brady each average more than 9 yards per carry, and both are equally adept at catching passes down the field.
Burns has some familiarity witth the triple-option offense since they play South Point every year, but the version run by the Red Raiders isn't quite as complex as what the Bulldogs will see from North Lincoln. The Knights are similar to South Point in that both teams run the ball 90 percent of the time, but the Red Raiders found some success throwing on Burns, and North Lincoln is capable of hitting big plays over the top when the defense zeroes in on the run game.
Beard has completed 24-of-39 passes this season, compiling 618 yards with 9 touchdowns and just 1 interception. As mentioned above, Soorus and Brady are deep threats - with each of Soorus's five catches going for touchdowns - and Seth Whitley is a proven weapon on the outside, leading the team with 16 receptions for 327 yards, including 4 touchdowns.
While North Lincoln loves to disguise what's coming, spreading the ball around to a variety of weapons, it's no secret who's getting the ball for Burns. The Bulldogs go as senior running back Kujuan Pryor goes, and the going was great a week ago.
Pryor delivered a legendary performance on the road at Hibriten last week, rushing for 431 yards and 3 touchdowns, including more than 300 rushing yards in the first half alone. Pryor is electric, rushing for more than 2,100 yards this season to go with 22 touchdowns. He's also caught 12 passes for 189 yards and 6 more scores.
West Lincoln at Shelby
It's David vs. Goliath in this rematch of last year's first round matchup at Shelby. The Rebels are riding high, coming off the first two playoff victories in program history, while Shelby has won five of the past six state championships, and is a certified dynasty.
Be that as it may, West Lincoln is playing with nothing to lose, and they'll bring the fight right to Shelby's front door tonight.
The Rebels are led by senior running back Canon Bridges, who's now just 71 yards shy of the single-season Lincoln County rushing record. Bridges enters the game with 2,215 yards and 32 touchdowns in 13 games this season, and has rushed for more than 400 yards and 5 touchdowns in two playoff victories.
West Lincoln made the trip to Shelby in the playoffs last year, falling 27-8 to the eventual state champions. Despite playing in a backup role as a junior, Bridges provided a huge spark against the Golden Lions last year, rushing for 81 yards on 8 carries, including West Lincoln's only touchdown of the night.
Shelby is going to air it out early and often, with senior quarterback Isaiah Bess enjoying a full complement of weapons to get the ball to.
Bess has averaged nearly 20 yards per completion this season en route to 2,955 yards, posting 37 touchdowns to just 7 interceptions. The Golden Lions feature a pair of senior receivers who each boast 14 touchdown receptions this year, with both exceeding 50 receptions and 1,000 yards.