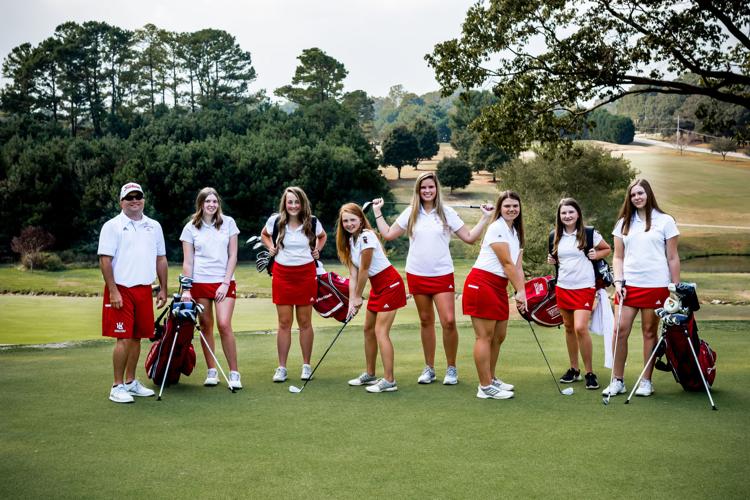 The West Lincoln Lady Rebels golf team made history last week, capturing the first conference championship in program history by winning the final three league matches. That momentum has the Lady Rebels riding high into Monday's 2A Western Regional Championship at Mountain Glen Golf Club in Avery County, where West Lincoln will test its mettle against other top programs in the surrounding area.
West Lincoln's moment of triumph following the final South Fork 2A match at Rock Barn Golf Club last week was the culmination of the hard work and dedication exhibited by each individual member of the team. Without a senior on the roster, the Lady Rebels are young by any standard, but they're especially young in terms of experience on the golf course, with several players who are still fairly new to the game in general, not just at the high school level.
"The ironic thing about this team is that out of the seven girls, five of them have less than two years of golf experience period, and one of them - Leah Matney - just started playing golf in April," West Lincoln head coach Matt Lytton said. "Last year was a year of learning for this group, but even then you could tell the potential was there. These girls have put in a lot of hard work and effort throughout the winter, spring and summer, and it all paid off with what they were able to accomplish last week."
While last week's conference championship was truly a team accomplishment, the Lady Rebels have been led throughout the season by junior Laycee Hoffman, sophomore Rae Watson and freshman Reese Coltrane. With each owning a sub-50 average 9-hole round, Hoffman, Watson and Coltrane were all named to the South Fork 2A All-Conference team.
"Winning the conference championship was an amazing feeling," Hoff man said. "I was the happiest person on Earth, and I was ready to dump water on (coach Lytton). It was mind-blowing. I thought we could do it, but it was amazing to know we accomplished that goal."
Coltrane, the freshman, leads the way with three tournament wins this season and the lowest average score at 47.2, but the team will lean on Hoffman and Watson as the only two with prior experience playing in a regional championship. Hoffman, in particular, has been there to provide advice for her teammates as West Lincoln's captain this year.
"It's different at regionals from the very beginning," Hoffman said. "They announce your name at the first tee box, and there are way more people standing behind you and watching you than there are at a regular match. It's a mindset thing and it was a bit overwhelming for me last year, but I played in a bunch of tournaments over the summer with larger crowds and a similar atmosphere, so I expect to be more calm this year now that I know what to expect."
Lytton, whose first team at West Lincoln in 2013 went undefeated during the regular season but was unable to qualify for regionals due to playing without a conference, earned South Fork 2A Coach of the Year honors for his team's success this season. He'll now lead his girls up into the mountains for the 2A Western Regional at Mountain Glen Golf Club near Boone in Newland.
"Several of our girls have already gone up there to play the course, and we'll go up there again this weekend for a practice round," Lytton said. "The main thing I always tell them, and it holds especially true for Monday, is just to relax and play your golf. There are so many teams in the field at regionals, and we have to focus on us rather than everything that's going on around us."