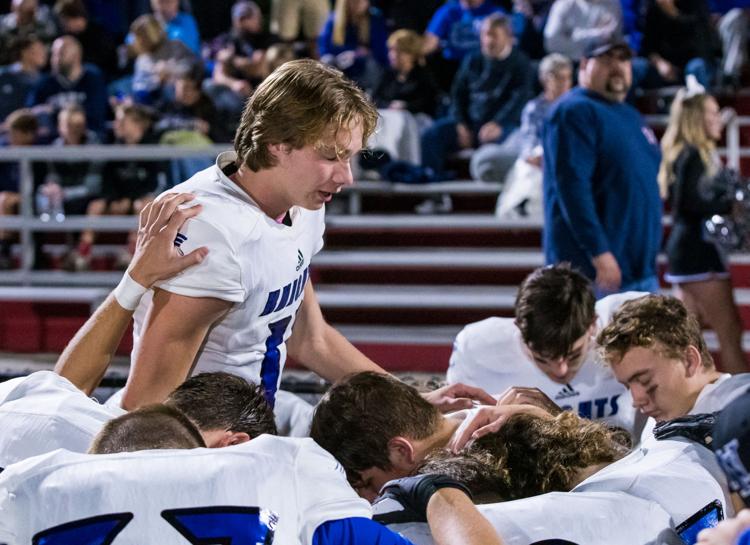 North Lincoln head football coach Nick Bazzle had long since established a name for himself upon joining the Knights prior to the 2018 season, and his track record of success led many to believe North Lincoln would soon be competitive, despite a history -- albeit only 15 years -- of losing. But no one, not even Bazzle, expected the accomplishments that would follow after just two seasons.
"When I took the job, I was never told that there were some good athletes on the team," Bazzle said. "I just took the job on a whim because I wanted to be back in coaching and this was home, so it was a good for me. Once I got here, people started telling me about how this place was a sleeper because we had some kids out there who could run."
What Bazzle heard was true, and maybe even a bit undersold now when looking back at what those athletes have accomplished.
In this year's senior class alone there's Appalachian State track and field commit Jake Soorus, a state champion in track and field and baseball who Bazzle called the most complete athlete he's ever coached, Sam Brady -- another member of that baseball state championship team who's committed to play football collegiately at the University of Virginia -- and Landon Beard, a track and field state champion with elite speed who Bazzle believes has a future playing football at the next level as well. That's without even mentioning the underclassmen, including defensive end Travali Price, a 4-star recruit ranked among the top 300 players in the junior class nationally by 247Sports with scholarship offers from numerous ACC and SEC programs, and sophomore fullback/middle linebacker Ty Williams, this year's leading rusher who Bazzle believes could become the best running back to ever come out of Lincoln County.
Games aren't won on athletic ability alone, however, as evidenced by North Lincoln's 4-18 record in the two seasons prior to Bazzle's arrival. The Knights' new coach needed his guys to buy into his message and vision for the football team in order to find success, and that's exactly what this team did.
"I was the third head coach in three years for these seniors when I took the job last year," Bazzle said. "When you've got four years of high school and you've already had to play for three head coaches, I really felt like those kids felt like nobody wanted to coach them. I think they had an inferiority complex, so the one thing I wanted to do was assure them of the fact that I'm not here for one year or two years and then out the door. I needed a football team to coach, and they needed a coach."
Upon his arrival, Bazzle was best known in the area for his triple-option offense that led Newton-Conover to a state championship in 2008. Not only is the run-heavy option offense totally different from the spread attack North Lincoln ran in 2017, it also requires selflessness, with a variety of options available to carry the ball on any given play.
"I'm like this; I think the only way to be successful is if your players trust you as a coach and you trust them on the field," Bazzle said. "The very first day I talked to them I met them in the seminar room, and I didn't know who was an athlete and who wasn't, I just saw faces. I told them that day, 'If y'all want to be successful, you can be successful in what we do here. There's going to be no question that what we're going to do will give you success, but you have to be more concerned with winning a conference championship than you are with being all-conference, and you have to consider your teammates more important than yourself.'"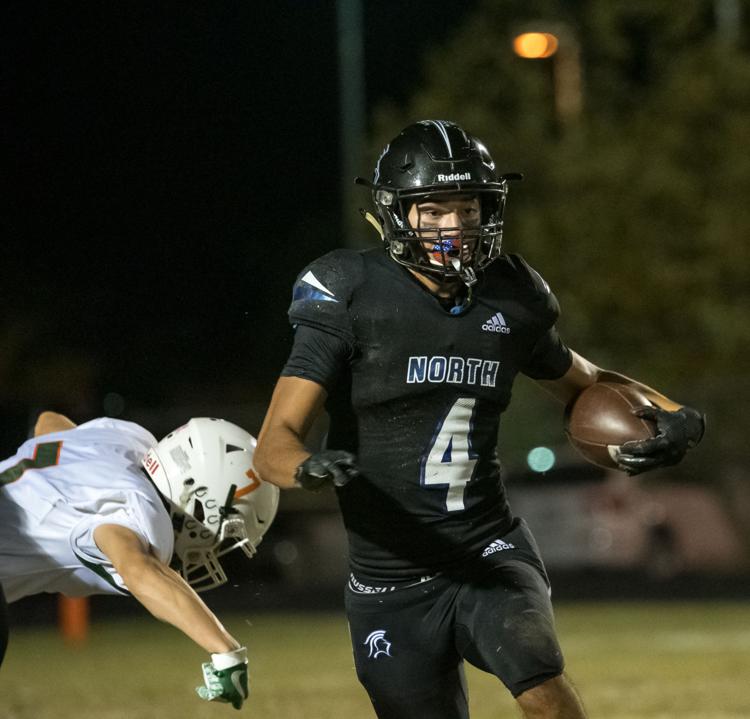 Bazzle's message of selflessness, and focusing on team success rather than individual accolades, was taken to heart by everyone in the North Lincoln locker room, but none moreso than Soorus and Brady. In a year when West Lincoln's Canon Bridges carried the ball nearly 300 times en route to the most prolific single season in Lincoln County history, those two seniors -- one who will be playing in the ACC next year and another who may be the best all-around athlete to ever walk the halls at North Lincoln -- never once complained despite combining for well under 200 carries.
"Those guys wanted to win worse than they wanted anything else," Bazzle said. "You take kids like Jake and Sam, as well as Beard and Ty Williams, and any one of those four kids is talented enough to be considered as a conference player of the year."
While their touches may have been a bit limited comparatively speaking, Brady and Soorus made the most of every opportunity with the ball in their hands, combining for more than 2,000 total yards this season with 28 touchdowns between the two. Then there's their impact on defense, where Brady recorded 87 tackles, while Soorus made 14.5 stops in the backfield, including 2.5 sacks from his outside linebacker position.
North Lincoln's senior class was littered with leaders, but there's no position in sports more synonymous with leadership than quarterback, and Bazzle couldn't have hand-picked a better signal caller than Beard. Not only did Beard master the complexities of running Bazzle's option offense despite never having taken a snap under center prior to last year, he led by example, battling through an early season ankle injury that sidelined him for three whole games and most of two others, and returning for overtime in last week's third-round playoff loss to Burns after re-injuring that ankle upon being yanked down by his facemask in the fourth quarter.
"Our trainer came up to me after he came off the field against Burns and told me he was done for the night," Bazzle said. "For him not get up off the ground immediately, I knew it was hurting him because unless he gets knocked completely silly, he's not coming out. Then, going into overtime, he came up to me and told me he was good to go. The trainer told me it was my call, so I looked him in the eye nose-to-nose and said, 'Beard, if you're not 100 percent you better tell me right now. Don't you sacrifice this team for the fact that you want to play,' and he didn't even say anything to me. He just turned and sprinted 30 yards that way, and then turned and sprinted 30 yards back to me, and I said 'ok.'"
While Soorus, Brady and Beard put up big numbers and dominated the headlines, they're not the only seniors who led this resurgence at North Lincoln.
There's the big boys in the trenches like Wyatt Painter, who earned player of the week honors after a dominant performance at West Lincoln, and Joseph Elberti, who blocked a punt against Bessemer City and returned it for the only touchdown of his career, as well as Jayson Isenhour, Austin Houser, Elijah Landers and Jesse Ramos. There's guys who were key pieces to a dominant North Lincoln defense, including outside linebacker Brock Rankin -- who came up with a clutch sack against Burns in the fourth quarter that nearly sent the Knights to their first Western Regional Final -- and cornerback Jacob Cline, a ballhawk who intercepted four passes in a playoff win over Smoky Mountain last year. And then there's a quartet of special teams aces in Ian Fiore, Seth Moody, George Fox and Allan Owen, who stepped up when needed in other areas in addition to their work on the kicking and return teams.
Low and behold, those kids bought into their third head coach in three years, and now two years later they've become the most successful senior class in the history of North Lincoln football. The Knights have gone 22-6 in two seasons under Bazzle, including a record-breaking 2019 season that delivered 12 wins -- the most in program history -- and North Lincoln's first conference championship.
"I'll say this, there's been a lot of senior classes in my 19 or 20 years as a head coach," Bazzle said. "There are certain ones that you become very close with, but most of those were groups of kids that I knew from the time they were seventh graders. I can say, without a doubt, that I've never gotten as close to a senior class as fast as I did with this group, and that's just because of the kind of people that they are. People viewed North Lincoln as a losing program, and they wanted to change that, but at the same time they did it the right way because they did it with character."