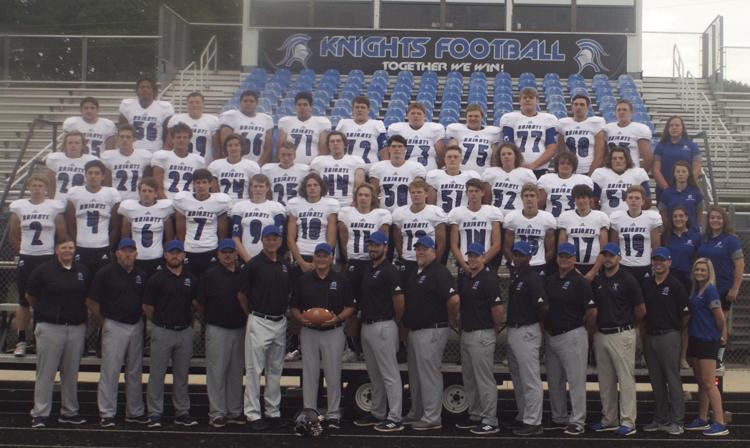 From winning two games total in 2017 to notching two playoff victories in 2018, the North Lincoln Knights produced one of the most dramatic turnarounds in recent memory in Nick Bazzle's first year as head coach.
"The bar was set high last year because we had a surprisingly good season that nobody expected, even me," Bazzle said. "Sometimes things just happen that way, where everything clicks, but we don't focus on what happened last year. We're gonna use it as a springboard rather than something to reflect back on."
While this year's lofty outside expectations are unfamiliar to a North Lincoln program that hadn't posted a winning record in a decade, winning just seven games from 2015-2017, Bazzle is no stranger to the pressures of coaching a team with championship potential.
"Where you're ranked in the preseason, or the success you have from one year to the next has no bearing on what we do," he said. "Even if you have experienced players coming back, you never know exactly how that team is going to come together because you've got a different group of seniors and a new group of underclassmen, so every year is different. One thing I tell my players when we hang it up following the last game of every season is that if they come back next fall in the same shape, size and strength, we're gonna be worse because everyone else is working to get better."
Bazzle faced an uphill climb upon accepting the North Lincoln job last summer, taking the reins in June, with less than two months to build a roster and implement his system. The differences between then and now are glaring, but the most striking is the number of players that have come out to join the team.
"I got here June 20 last year, so we didn't have much of an offseason with the guys," Bazzle said. "This year we've had as good of a turnout as I've had in my coaching career, with 76 players total on JV and varsity compared to just 61 last year. We've picked up some numbers, and of course that's got to do with the success we had last year, so hopefully it continues."
While the roster has expanded, the Knights will be led by a crew of familiar faces, with nine starters returning on each side of the ball.
North Lincoln will be without Clayton Cribb, however, who led the team with 1,357 rushing yards on 232 carries.
Cribb, who will suit up for the Army Golden Knights this fall, was the featured back in Bazzle's triple option attack.
"He's definitely gonna be our biggest vacancy from last year," Bazzle said. "Cribb was a big part of our offense."
Bazzle will turn to a pair of sophomores who shined on JV last year in Ty Williams and Kristjan Snyder. Williams is likely to start the season as the first-team back, according to Bazzle, but Snyder will see his share of carries as well.
"We're gonna replace Cribb with two people," Bazzle said. "Kristjan Snyder was our JV fullback last year. He played at about 190 pounds, but he's up to 230 now, so he's put on some weight this offseason. He and Ty Williams, who was our JV running back, they complement each other, but they're two different style runners. Kristjan is a big bullish kind of runner, and Ty adds a really good quickness element in there, so we'll use both of them depending on the situation."
The underclassmen won't be the only new faces in the backfield, with Sam Brady making the move from wide receiver to running back.
"When you look at all our position groups, the places where we're the deepest – and with our offense you wouldn't think this – are at wide receiver and in the secondary," Bazzle said. "That's one of the reasons I've moved Brady from wide receiver to running back. We didn't need to stockpile receivers, and with Brady's athletic ability, we need to be able to get the ball in his hands. Moving him to the A-back in our triple-option offense, he can be a receiver and a running back."
Brady, a senior who's committed to play at the next level for the Virginia Cavaliers, led all North Lincoln receivers with 21 catches for 378 yards and 4 touchdowns.
Seniors Landon Beard and Jake Soorus round out the quartet of backs that operate in Bazzle's system, with Beard – the quarterback – running the show.
"Anybody in this community who watched us play football will know that (Beard) showed the most improvement of anybody on our field last year, and it made us that much better when it came to playoff time," Bazzle said. "He came in last year not know anything about the offense we run, having trouble finding where to put his hands under center. When I tell you we had to start from scratch, he had to learn how to take a snap before we could do anything else. He'll be the catalyst of our offense without a doubt, and whether we sputter or go will be on his shoulders, but the good thing about it is I've got a ton of confidence in that kid."
Beard accounted for 11 rushing touchdowns last season, adding six more through the air, and while he'll lead the offense, Soorus is the back most defenses will gameplan around.
Soorus totaled 1,126 rushing yards on only 120 carries, meaning he nearly averaged a first down each time he touched the ball. He also led the team with 14 rushing touchdowns.
The Knights also return a wealth of experience along the offensive line, but depth in the trenches could be a concern as attrition takes its toll throughout the course of the season.
"Our offensive line is pretty much in-tact coming back, and while we feel pretty good about our starting group, we don't have a lot of depth," Bazzle said.
While depth in the trenches is a concern, the Knights boast a bonafide star along the defensive front in junior end Travali Price. Price, who's received a slew of ACC offers, was named South Fork 2A Defensive Player of the Year as a sophomore after posting 118 tackles, including 23 in the backfield, and 15.5 sacks.
"Hopefully he's going to discourage a lot of people from running that way, which will make it maybe a little easier for us to figure out where they're going," Bazzle said. "He really is a force over there. We have to be careful when we go 11-on-11, so when we put our first defense out there against a scout team offense, we have to have a quick whistle. We took him off of our scout defense that played against our first offense because I don't want my running backs and quarterbacks running into him."
The Knights will start their season on the road Friday, Aug. 23, when they travel to Monroe for a showdown with the Parkwood Rebels.