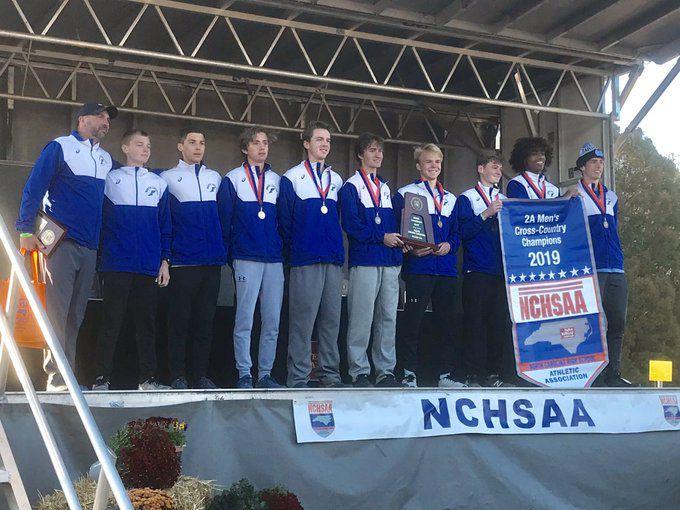 The North Lincoln cross country program has seen its share of success over the past decade, but Saturday's performance at the 2A State Championship in Kernersville cemented the Knights among the state's powerhouse programs, regardless of classification.
The men's team has reached dynastic levels, placing five runners in the top 20 Saturday afternoon to claim a third consecutive 2A state championship. It's the fifth team title overall North Lincoln, which won back-to-back championships in 2011 and 2012.
"We lost four of our top seven from last year's team and 35 percent of our roster to graduation," head coach Jerry Castro said. "This team probably worked harder than any other team I've ever had over the summer. They put in a ton of miles this summer and that set them up for a great season. We knew we had the potential, but we did get beat by First Flight early in the season, and that was the first time we had lost to a 2A school in over three years. We knew they would be our main competition at the state meet, so when we lost to them again a few weeks later I think the guys got down on themselves a little because we ran really well and still got beat. At that point, I'd would almost rather lose by a little than win by a little because I think it got the guys hungry with about a month to go until the state meet. We knew we could get better and it all came together Saturday."
The three-peat, as it's called in sports, was a priority for the guys entering the season.
"We wanted the three-peat because we knew it was something that had never been done before at North Lincoln," senior Jason Thomson said. "We had gone back-to-back in previous years, but that team wasn't able to complete the three-peat. Being able to do that, considering I had been thinking about the possibility of it since the first state title we won my sophomore year, was pretty special, especially knowing how everybody was doubting us. We lost four of our top seven from last year and no one really thought we could do it at the beginning of the season, so it was really special to see all of our guys step up and work together toward the same goal."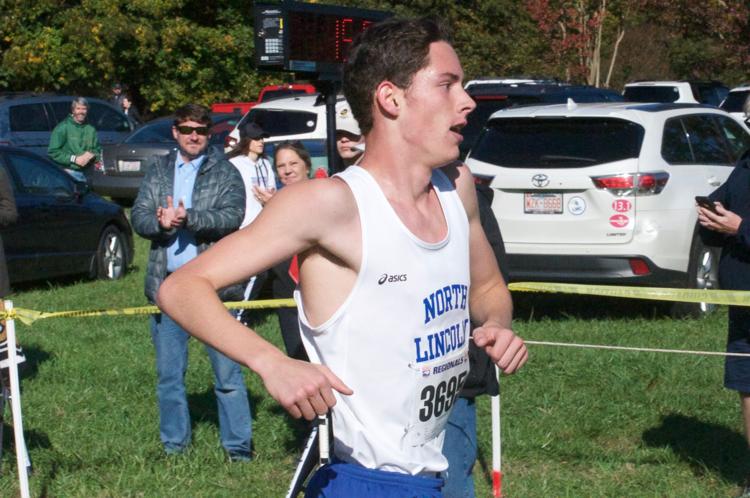 The three-peat wasn't the only goal on Thomson's mind, however, after finishing fractions of a second shy of the individual championship as a junior.
"I actually kept the runner-up trophy next to my bed all year as a reminder," he said.
Not only did Thomson capture the individual state championship as a senior, he did it emphatically by breaking the record for the fastest time ever run at the 2A State Championship. His time of 15:40.66 broke the record previously set by North Henderson's Aaron Keller in 1996.
"As I was coming down that last straightaway I knew I had to finish strong after what happened last year," Thomson said. "I just tried to give it all I could on that final stretch, and then when I crossed the finish line it was just pure joy knowing I had finally overcome that defeat from last year."
While Thomson is set to take his talents to Chapel Hill, where he'll compete in cross country and track and field for the Tar Heels, there's plenty of talent returning for the Knights next year. Juniors Jacob Scott and Miles Phillips, who finished eighth and ninth in the state championship, respectively, will lead a team that will also include Jared Campbell and Stephen Fernetti, who each finished in the top 50.
Thomson wasn't the only North Lincoln runner to overcome a runner-up finish last year, with junior Angie Allen winning the women's race to claim the individual state championship as well.
"It was very exciting in the moment, but the first thing I did after I crossed the line was turn around to watch my teammates finish," Allen said.
Allen didn't have to wait long, with senior Alyssa Galvin crossing the line right behind her in second place.
"It was pretty cool to have my teammate right there in front of me," Galvin said. "We both worked really hard throughout the season, so it was nice for us to both do so well."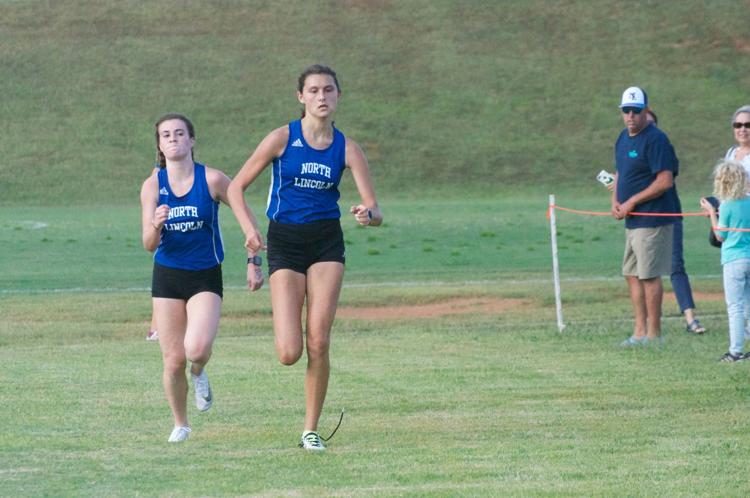 Allen and Galvin have pushed one another throughout the years, and all of that work culminated in Saturday's one-two finish.
"I loved seeing them finish one-two, and it was something that I had thought about all season," Castro said. "The two of them on the same team training together everyday was a huge benefit for both. I don't think Angie would be as good as she is today if it wasn't for Alyssa, and I don't think Alyssa would be as good today if it wasn't for Angie. They're great friends, but they compete like animals when they're out there on the course, and then the second the race is over they're hugging each other. I love that about them."
While Allen and Galvin took the top two spots, the Lady Knights still fell short of a team championship, garnering the fifth runner-up finish in the program's history. North Lincoln once again finished second to Carrboro, a perennial power that placed five runners in the top 15.
Galvin is set to graduate, but Castro is already excited about the prospects of next year's team, which will be led by Allen, and also include Lori Glavan and Andrea McAllister, who each earned top 25 finishes in the state championship.
"We had some huge surprises this season, so I'm really excited about next year," Castro said. "Lori Glavan is a 10th grader and this was her first season ever running. She ended up trying out because her brother came out for the guys' team, and she was probably the biggest surprise this season as she finished third on the team at the state championship. I'm really excited about our young kids on the girls team. We've got a really good core group of freshmen that remind me of the seniors who are graduating. I know I say this every year, but I really think this girls team can get it done next year."
Castro will now turn his attention to the North Lincoln football team, which features his son, Ty Castro, at linebacker. The Knights begin their playoff run at home Friday night against R.S. Central