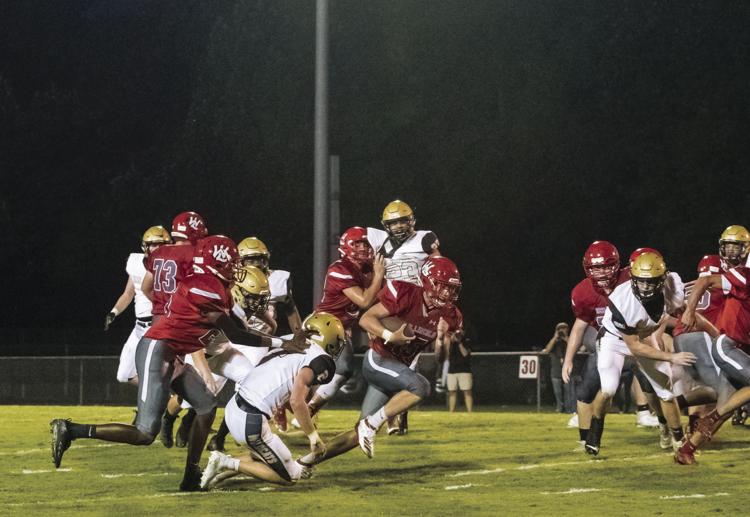 Cherryville at West Lincoln
The West Lincoln Rebels will look to keep the momentum of a 52-13 thrashing of the Draughn Wildcats rolling tonight against Cherryville after a bye in Week 2.
The Ironmen, on the other hand, are hoping to erase the memory of last week's 40-0 loss at Chase with a bounceback performance at West Lincoln.
The former conference foes are familiar with one another, having squared off in a non-conference contest each year since 2013. The Rebels have won all six of those matchups, including last year's 48-7 victory at Cherryville.
Given the familiarity, the Ironmen are well aware of West LIncoln's plan to run the ball right at them, but that doesn't mean they'll be able to stop the stable of backs in the Rebels' backfield.
Last week, Cherryville allowed nearly 9 yards per carry and a pair of rushing touchdowns against Chase.
Last year, West Lincoln churned out 431 yards and 6 touchdowns on the ground against the Ironmen.The backs responsible for the bulk of that production, Brendan Ikard and Nakathon Phansook, have graduated, but the Rebels boast a dangerous tandem of seniors this year as well in Canon Bridges and Xander Pendergrass.
Bridges, in particular, put everyone on notice by rushing for 269 yards and 5 touchdowns in the first half against Draughn. While Bridges is the power back, Pendergrass and quarterback Mason Huitt provide the speed for West Lincoln.
East Lincoln at Ashbrook
Like the Rebels, East Lincoln sports a 1-0 record entering tonight's matchup at Ashbrook. The Green Wave, however, will be hungry for its first win following a pair of losses to Green Hope and A.L. Brown to open the season.
The Mustangs have lost to Ashbrook each of the past two years, including a 30-14 defeat at home in 2018. In that contest, East Lincoln had no answer for running back Tyreese Nicholas, who tallied 255 rushing yards in 2 touchdowns to lead the Green Wave to victory. Fortunately, for the Mustangs, Nicholas has graduated.
While the Green Wave stifled the East Lincoln rushing attack a year ago, the Mustangs didn't help themselves, commiting 17 penalties that cost them 184 yards.
The two East Lincoln backs that did find success in last year's matchup, Cole Barber and Lucas McConnell, are back again this year, and are likely to carry the ball more than the 9 combined touches between the two the last time these teams met. Ashbrook allowed more than 300 yards rushing in last week's loss at A.L. Brown.
North Lincoln at West Caldwell
The Knights may have discovered a diamond in the rough last week, when junior quarterback Jack Carter stepped in for the injured Landon Beard and accounted for 5 total touchdowns in a 56-21 victory over East Rutherford.
While North Lincoln head coach Nick Bazzle referred to Beard's injury as "not a bad sprain," he also said it wasn't worth risking further damage in a nonconference game. Considering West Caldwell has dropped its first two games this year after finishing 0-12 in 2018, it's likely that Bazzle gives Beard another week to heal, especially with the Knights having a bye next week.
While Carter led the charge against East Rutherford last week, he was aided by North Lincoln's playmakers, with Sam Brady and Jake Soorus each scoring a pair of touchdowns. Expect that duo, as well as whichever quarterback that ends up playing, to find the end zone early and often against a Warriors defense that's allowed 60 and 52 points, respectively, in the first two weeks of the season.
Lincolnton at North Gaston
Lincolnton is the lone remaining winless team in Lincoln County, but the Wolves are far from pushovers, as evidenced by last week's stout defensive performance against a perennial powerhouse in South Point.
The Wolves will likely need the defense to step up once more, with freshman quarterback Reed King in line for his first varsity start in place of the injured senior E.J. Manjarres.
King performed admirably after being thrown into the fire in the second quarter against South Point, completing 7-of-20 passes for 75 yards. Lincolnton head coach Joe Glass said he's scaled back the playbook this week in practice in an attempt to put King in the best position to succeed.
North Gaston enters tonight's matchup with 1-1 record, including a 24-0 loss to Polk County last week, and a 21-14 victory at East Gaston, which Lincolnton hosts next week. Polk County recorded 200 yards and 2 touchdowns on the ground against North Gaston last week, as well as pick-six on defense.
The Wolves and Wildcats played an ugly game last year, with North Gaston prevailing 8-7 on a game-winning touchdown and two-point conversion in the fourth quarter.