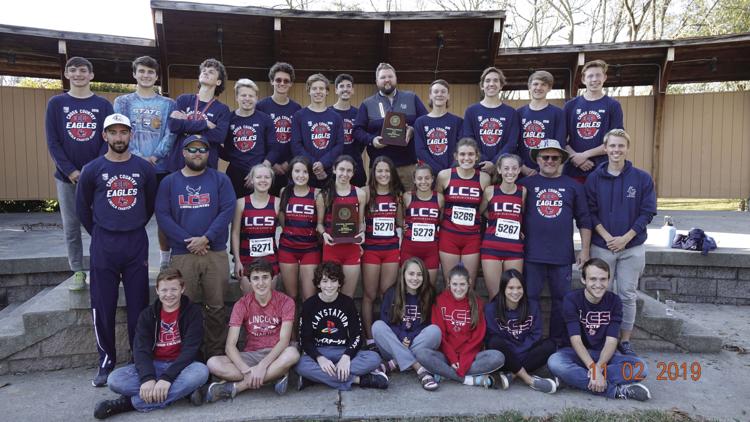 It took eight years before Lincoln Charter sent a cross country team, men's or women's, to the state championship meet. The ladies broke through in 2012, with the men following suit two years later, and now in a matter of just five years, the Eagles have become a powerhouse among the top programs in the state.
Lincoln Charter head coach Josh Williams has been involved with the program since its inception, and is in his fifth season as head coach. He credits this year's senior class for establishing the culture that's helped the Eagles rise to the level of the state's elite teams.
"We've seen a lot in four years," Williams said. "We've seen a lot of folks come and go, and we've seen some negative energy push out over those four years as well, but these are the kids who have changed the culture of our program. These kids are talented, but the reason we've had success is because they're good people and they live what they talk about. If they say they're going to do something, they follow through on that."
On the women's side, the senior class is led by Emma Lasarsky, who's the only member of the class to run cross country all four years of high school. In those four years Lasarsky has been on the team, the Lady Eagles have won the 1A West Regional Championship all four times.
"For me, it just represents four years of time and dedication," Lasarsky said. "I've been able to work with so many different people, learning what works best for the team as a whole and each year kind of adjusting that. For example, this year we had to learn how to run in a pack as a team, and it's really cool just to see how everything falls into place when you put the work in throughout the years."
Williams reflected on Lasarsky's freshman year, when she was new to cross country and still in her shell a little bit.
"Emma was probably like 4-foot-10 her freshman year, coming off being a gymnast," he said. "She quit doing gymnastics and then she actually grew, but she was the very quiet, timid type of kid. You wouldn't believe that now if you were around her for any amount of time because she's very vocal and very loud, but in a good way."
Joining Lasarsky in the senior class are Natalie Hamlen and Elizabeth Strain, who are both new to the team this year, as well as Alyssa Wright.
"We try to show the younger girls that this is a family, and that's the culture we've established here," Lasarsky said. "They definitely push us as well, because as they get faster, we have to keep improving too."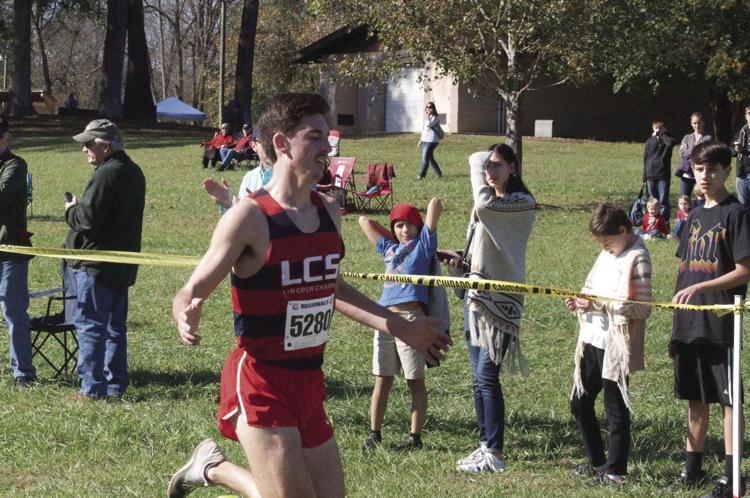 On the men's side, the senior class is led by Drew Zink.
"With Drew, that's been the case from day one," Williams said. "When he came in as a freshman I would watch from afar as coach and think 'This kid is already leading this team. He doesn't know it, but he's already our leader.' A lot of that was just through his performance on the course, and then he just grew into more of the leader you think of as a captain."
Zink helped lead the men's team to the first cross country state championship in school history last year alongside fellow classmates Jonas Guffey, Kinser Hudson, Spencer Wessel and George Wilz.
"The feeling of winning the team championship last year was phenomenal," Zink said. "We knew going in that we had a really good shot of winning, but I don't think it hit anybody that we had won until they actually announced it on the podium. We had a bunch of past runners there and a lot of JV runners who came to show support, so it meant a lot having all those friends and family there watching. It was very cool, and especially because it was only the third state championship the school has ever won overall."
While Zink enjoyed the moment with his teammates, he had to cope with falling fractions of a second shy of an individual state championship. In fact, the finish was so close that Zink was announced as the winner, furthering the agony when the change was announced some 15 minutes after the race.
"It's been pushing me all year," Zink said of coming so close in 2018. "I've worked so much harder than I did the past three years, and that's been my motivation."
Zink's runner-up finish hit close to home for Williams, whose teams have finished as state runner-up on several occasions.
"We say that if we're gonna be champions, we have to behave like champions before we're champions," Williams said. "If we do that then everything else is gonna fall in place. That's a big lesson I had to learn because there's a lot of silver up there on that wall from finishing state runner-up in running and swimming. I was bitter about that and it made me angry, but I had to realize that's not what defines me as a person or a coach. When I let those things go, and with the help of these seniors, that's when things started happening."
Lincoln Charter will compete in the 1A State Championship Saturday morning at Ivey Redmon Sports Complex in Kernersville.