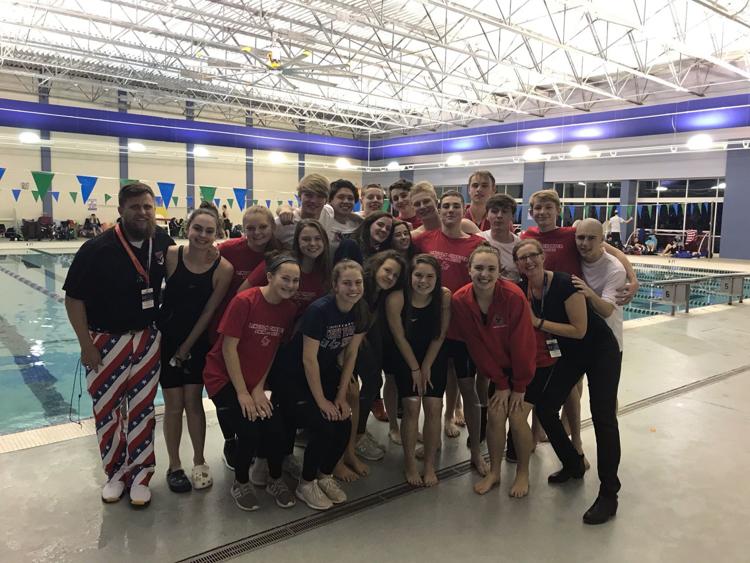 The Lincoln Charter Eagles have consistently finished among the top teams in the state in swimming and diving in both men's and women's competition, but with all those top five finishes and even a couple second-place showings, the Eagles have never brought home the state championship.
Fresh off third- and fifth-place finishes for the men's and women's teams, respectively, Lincoln Charter should be right in the thick of the race again this year, starting next weekend with regionals, and then in the state championship. Both teams suffered losses from a year ago -- the men moreso than the women -- but the Eagles' young swimmers have filled in admirably.
"We honestly didn't lose too much," women's coach Josh Williams said. "We've got five juniors now who were strong when they came in as freshmen two years ago, and then this year's freshman class has been really strong as well. Chloe (Harris) is basically our senior leadership this year, and she's kind of on another level with where she's at, but this girls team is stronger and deeper than what we had last year."
The men's team was hit a bit harder by graduation a year ago, losing some key pieces that helped hold the team together.
"We lost a major part of our senior leadership in seasonal swimmers who were at practice every single night working to develop their talent over a long period of time, and they got a chance to shine in some big relay positions while also earning some individual scores," men's coach Dillon Ross said. "It's hard to train up a seasonal athlete in a year-round sport like swimming and that's really what we lost from our senior group."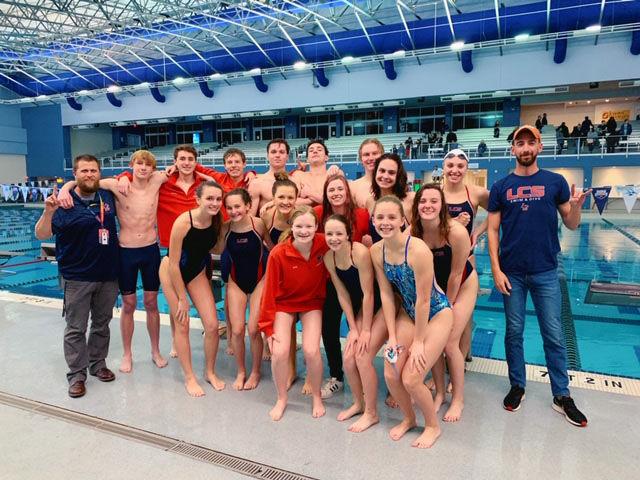 There's plenty of talent left on the roster, however, including a trio of seniors hoping for individual glory in addition to a team title.
The men's team is led by seniors Neal Stratton and Zack Whipple, both of whom finished just shy of an individual state championship in 2019. Stratton finished just two seconds shy of the title in the 200-yard freestyle, while Whipple took second in the 200-yard individual medley.
"Our seniors were extremely successful their sophomore year, with Zack and Neal being on that 200 free relay team that won the state championship," Ross said. "I think Zack and Neal would love to see another relay championship kind of as a way to give back to the team as seniors, I would say, since they had that experience as sophomores. They're both really geared up to try to take down their individual events, but that's not really what I hear them talking about. They're defenitely ready, and they've been training with their club coaches to tune up because those are some personal goals of theirs, but I hear them more talking about going out and giving their all in those relay events to be able to pull some of those seasonal swimmers up there on the podium with them. I think that's their main goal."
Senior Chloe Harris leads the way for the women's team. Harris finished second not once, but in three different events at last year's state championship meet, including the 200-yard medley relay, as well as the 200-yard individual medley and the 100-yard butterfly, which she lost by just fractions of a second.
"From what I can tell, Chloe's been working hard with her club team," Williams said. "On our end, we're really working on trying to figure out what are going to be the right events for her to give her the best shot at an individual state championship. This would be a nice cap to her senior year, and we hope it happens because she's been really close several times, but things just haven't panned out for her. Regardless, she's got a bright future, having already signed to swim at Liberty University next year, which is something she's very excited about. I feel like, honestly of all the years I've had her in high school -- and I've known Chloe since she was four in summer league at Cowan's Ford -- it seems like she's a lot less worked up and tense. I think she's kind of taking it in stride this year and she's just going to leave it all out there and let the cards fall where they may."
While Lincoln Charter is littered with talented swimmers, the diving compenent of the meet is crucial as well. With the dive meets taking place before the swim competition, the Eagles have a chance to earn points before their swimmers ever hit the pool.
The men's team, in particular, features a couple of talented divers in Davis Hutchinson and Alex Givens, who are both expected to place high at the state meet.