Fresh off the first state championship in program history, the Lincoln Charter Eagles men's cross country team has set its sights on a repeat performance.
"The boys were right there in 2017 too, but they got edged out by Bishop McGuinness," head coach Josh Williams said. "They decided they didn't like the taste that left in their mouth, and they just took their focus on running and training to a whole different level last fall. To win a state championship, of course you have to have good runners, but there are a lot of other little things that have to fall into place. We stayed fairly healthy throughout the season and we handled outside distractions well, so we're hoping for the same results this year."
Williams, who's been involved with the program since its inception in 2004, is entering his fifth season at the helm of the varsity squad. While the men's team has progressed steadily over the years, qualifying for its first regionals in 2009 before participating in the state championship for the first time in 2014, Williams credits the 2019 senior class with establishing the culture he envisioned for the program.
"Drew (Zink), Jonas (Guffey) and those boys have really set the tone," he said. "The guys before them were good, but running wasn't a lifestyle for them, so these seniors have changed the culture."
Zink, Lincoln Charter's top finisher in the state championship, was just fractions of a second shy of claiming the individual state championship as well, finishing second to Polk County's Caleb Potter despite posting a time of 16:28.23. Curtis Herms, one of just two seniors lost from last year's team, placed 12th, while Guffey, Cutter Law, Kinser Hudson and Patrick Rice will all return this year after finishing in the top 25.
"We've been doing a little bit of speedwork, but it's been a lot more of just wrapping up those miles and making sure we're getting our proper rest and nutrition to stay in shape ahead of the season," Zink said of the work the team has put in during the offseason.
"It's always the little things that make the difference when it comes down to it at the end of a race," Guffey added. "We've been working really hard at nailing those things down."
While complacency is often an obstacle for experienced teams during the offseason following a championship, Williams hasn't noticed a dip in his team's drive to be the best.
"Our summer workout numbers have been the best they've ever been, and the same core group of guys have been here for pretty much every optional workout," he said. "What I'm actually trying to preach to these guys is humility. We've got confidence, I promise you that. We've probably got a little bit too much sometimes, so I have to kind of bring them back down to earth, but they're starting to understand the importance of being humble in victory."
Lost in the glory of last year's men's team was another successful season for the Lady Eagles, who captured a third consecutive regional championship before finishing seventh in the state championship. While the ladies lost their top finisher from last year's state championship in Megan Minaudo, who placed 20th with a time of 21:44.40, Williams expects an even better season in 2019.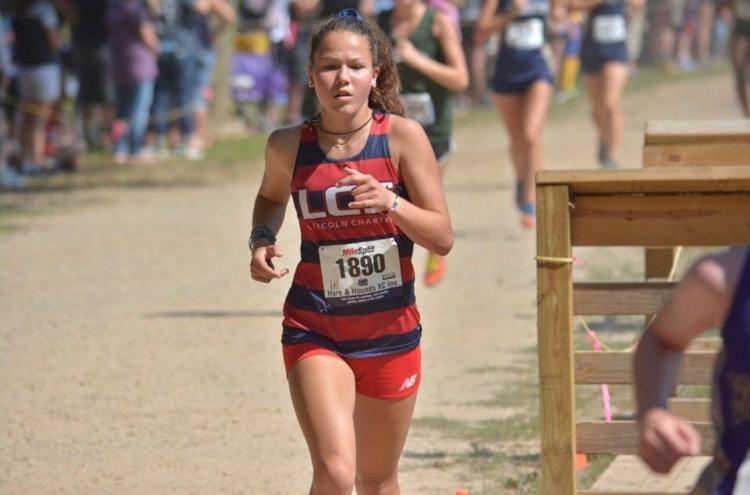 "We bring a pretty good core group of girls back this year," he said. "A lot of them were freshmen last year, so now they have a year of experience under their belt. Getting to states last year was exciting because we knew it was going to be close heading into regionals, so it was a success, but this year I've told our captains that I want to see us in the top five or maybe even top three at states, so that's our goal and I think it's attainable and something that they're ready for."
Senior Emma Lasarsky is the top returning finisher from last year's state championship after placing 30th with a time of 22:12.20. Other returning runners include senior Alyssa Wright and sophomore Rebecca Wilz, who each finished in the top 75 in the state championship.
"This year we're really focusing on running more as a pack," Wright said. "That's something we've kind of struggled with, if you will, in the past. We've got a lot of younger girls again this year, so we really want to push that team aspect of running in a group."
Williams echoed Wright's comments, saying the key to a better finish this year will be closing the gap in time between the team's top finisher and its fifth-place runner.
"Last year, we had to manage the nerves of some of our younger runners before the big meets, but this year there should be more confidence that comes with having been there before," Williams said. "Also, like Alyssa said, we need to work on shrinking our one-to-five split. We call it pack-running, and ideally it would be great to have our first through fifth finishers less than a minute apart."
The Eagles will return to action Saturday, Aug. 17 in the Mecklenburg County XC 2 Mile Preview at Myers Park High School in Charlotte. The meet, which is essentially a tune up for the upcoming season, begins at 9 a.m.