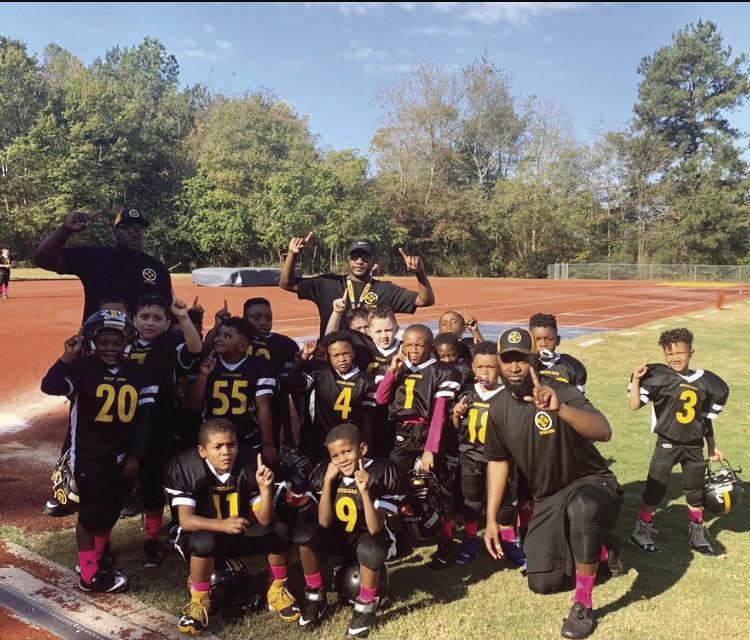 The Boger City Steelers Tiny Mites, a youth football team comprised mostly of kids ages five and six, capped a dominant season with a victory in the championship game played at Mooresville High School Sunday, Nov. 24.
"The kids kind of surprised me with their reaction after the game," head coach Rashad Thompson said. "They're only five, six, seven years old, but they reacted like a high school team that just won the state championship. They were jumping around excited, and it was really more of a brotherhood than a team the way they came together this year."
The Steelers defeated the Carolina Bears 16-0 to claim the championship in a rematch of a 22-0 victory for Boger City three weeks earlier.
"Going into that first game that were putting up points like we were, so we started out a little shaky because we didn't know what to expect," Thompson said. "This time we thought we had figured out what their strong points were, but they switched up their defense on us to try to stop our speed. We had to adjust and attack the middle, and our guys were making their blocks and running hard, so in the end they achieved that success."
Thompson also credited assistant coach Demory Williams for his work with the defense, which stifled opponents all season as it did in the championship game. In 12 games this season, the Steelers allowed just 32 total points en route to an undefeated season.
Thompson identified a handful of key contributors to this year's team, starting with running back King Watkins, raving about his football IQ for such a young age. Quarterback Jaydan Williams was acknowledged for his progress from season to season, and Thompson said he was Boger City's hardest hitter on defense. Thompson also mentioned Tilear Stewart, a first-year player who Thompson said was the fastest player on the team.
While elated by the victory, Thompson coached with a heavy heart Sunday after learning of the death of Jonathan Gidney, a friend of his from his time at Lincolnton High School. He dedicated the championship to Gidney's memory.