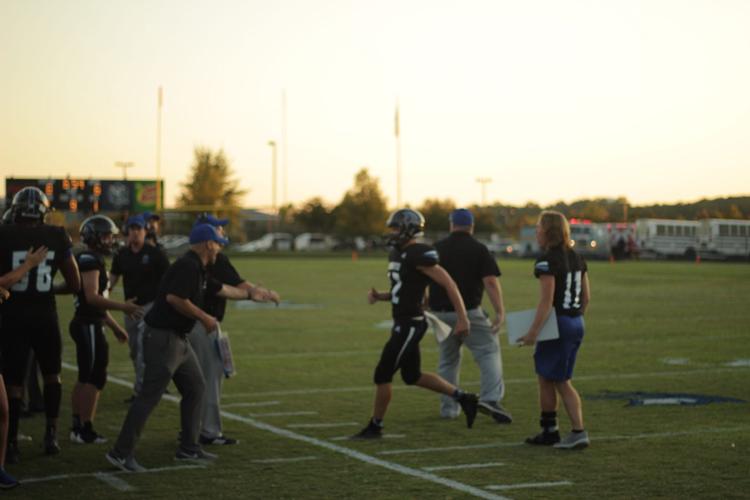 Staring down the barrel of an 0-2 start, the North Lincoln Knights put last week's season-opening loss in the rearview mirror, scoring early and often en route to a 57-21 victory over the East Rutherford Cavaliers.
"They knew that they let that one get away from them last week," Knights head coach Nick Bazzle said. "That was one that we should have had, but the thing is, sometimes you have to learn from your mistakes and bounce back, and that's exactly what we did tonight."
Further complicating matters, North Lincoln senior quarterback Landon Beard turned an ankle in practice during the week leading up to the game, but the Knights didn't miss a beat without their starting signal caller.
"It's not a bad sprain, but it was enough to where I didn't want to risk it in a non-conference game," Bazzle said. "I'd call him 'probable' for next week, but it's one of those things where we don't really know right now. He's wearing the boot for protection purposes, not because he has to."
With Beard sidelined, junior quarterback Jack Carter stepped in and decimated the East Rutherford defense. Carter completed 5-of-6 passes for 115 yards and 3 touchdowns, while also carrying the ball 5 times for 140 yards and another pair of touchdowns in his first varsity start under center.
"I'm just as proud of him as I can be," Bazzle said. "The good thing about what we do is we're blessed this year with some depth at quarterback. Beard is Beard, and he's our number one guy, but in this offense a lot of times your number one quarterback is pretty sharp, and then there's a drop off. We don't have that big drop when Jack comes in for us. He was sharp all week, I didn't see any first-game jitters and he was poised throughout the night, and that's going to help us next year when Beard is gone."
The Knights wasted little time in making amends for last week's slow start, with Tre Price recording his first sack of the night on the game's opening possession. The offense followed suit, capping North Lincoln's first drive of the game with a 19-yard touchdown pass from Carter to Seth Whitley.
A second consecutive three-and-out to start the game for the Cavaliers gave the ball right back to the Knights. After throwing his first varsity touchdown pass, Carter showcased his athletic ability, racing 67 yards to the end zone to increase North Lincoln's lead to 14-0 midway through the first quarter.
East Rutherford's final drive of the opening quarter was its most productive, with sophomore quarterback Trey Mauney connecting on 5 consecutive passes, including a 19-yard touchdown strike to Calvin Jones to cut the deficit in half.
Senior running back Sam Brady made his presence felt for North Lincoln in the second quarter, hauling in a 39-yard touchdown pass to push the lead back to 14 before running the ball in from 22 yards out to put the Knights on top 28-7.
North Lincoln capped its first-half scoring with two minutes left before halftime. Carter tossed his third touchdown pass of the half, finding Jake Soorus over the top for 33 yards to give the Knights a 36-7 lead at the intermission.
While the passing attack was vital to North Lincoln's first-half success, the Knights turned to the ground game exclusively after halftime, churning out three more touchdowns to ice the game.
Brady galloped 48 yards down the sideline to set up the first of those three scores, which came on a 3-yard burst up the middle by Soorus on the very next play. Carter then found another crease, knifing through the East Rutherford defense for a 59-yard touchdown on the first play of North Lincoln's following possession to push the lead to 50-7 before Bazzle pulled his starters late in the third quarter.
A 25-yard touchdown run by sophomore Kristjan Snyder capped the scoring for the Knights early in the fourth quarter.
The Cavaliers added single touchdowns in the third and fourth quarters, starting with a 12-yard touchdown pass from Mauney to Jones, and followed by a 14-yard run by JuJu Whitesides.
While Carter stole the show, North Lincoln's array of weapons was on full display Friday night. Brady and Soorus each scored twice, showcasing their ability as runners, but also as receivers out of the backfield. The Knights were also able to find success running up the middle, with sophomore Ty Williams gaining 59 yards on 9 carries.
In total, North Lincoln amassed nearly 500 yards of offense, including 379 yards rushing.
Defensively, Price recorded 2 sacks, giving him 4 total through just two games. Soorus also recorded a sack, while junior safety Daniel Carter hauled in an interception.
North Lincoln's secondary was tested by the East Rutherford passing attack, and while Mauney completed nearly 64 percent of his 36 attempts through the air, the Knights kept everything in front of them, holding the sophomore to just 210 yards on 23 completions.
"It's kind of like whipping your youngin; you have to get your point across," Bazzle said of his team's bounceback performance. "They understand what they did wrong and they don't want to let it happen again. We were really uptight about this one, so I was really pleased with the way our kids came out and played, and we needed it because dropping two in a row would have been devastating."
North Lincoln (1-1) will hit the road next Friday to take on the West Caldwell Warriors.