LCS vs N Surry 3rd round
Photo by Jimmy Kuhn | Special to the Mount Airy News

Updated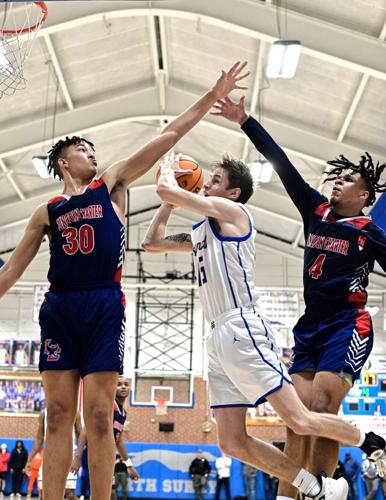 As featured on
MOUNT AIRY – Lincoln Charter overcame a 23-point first-half deficit to upset North Surry in overtime on Saturday.
Xavier Crawford and Kelan Flowers combined for 53 points to lead the No. 8 Eagles over the No. 1 Greyhounds on Feb. 25. Flowers scored 19 of his 26 points across the fourth quarter and overtime to lead the Eagles to the 85-82 OT victory.
The Eagles never led in the second, third or fourth quarters as they battled back from a double-digit deficit. A 5-1 run from Lincoln Charter during the final 52 seconds of regulation sent the game to overtime, during which Lincoln took the lead and never trailed.
Lincoln Charter wins its 17th consecutive game to improve to 24-11 on the